Posted by Ben Golliver.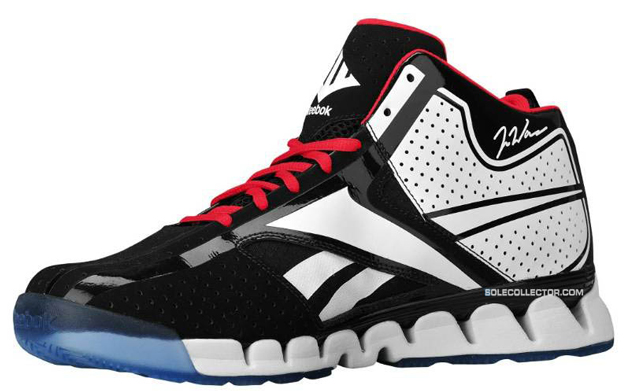 Reebok is either immune to the critics or has sunk too much into this "Zig" concept to admit that it made a mistake.
Back in October 2010
, we introduced you to Washington
Wizards
point guard
John Wall
's new signature shoe. It was his first shoe ever, to be worn in his rookie season, so it was a pretty big deal. There was a big unveiling presentation and everything. What resulted was a strangely-colored disaster made worse by the "Zig" concept at the bottom, a design that goes up and down more often than the stock market during the recent debt ceiling crisis, and a spider webbing system. Yes, the Reebok Zig was unique. No, the Reebok Zig was not unique in a good way.
Pictured above is the Year 2 model of Wall's signature shoe: the Zig Encore.
SoleCollector.com reports
that Wall will wear the sneaker during his sophomore season, should it take place, and has some additional details.
Boasting a look similar last season's Zig Slash, the Zig Encore is a slightly lower cut model equipped with a slimmer ZigNano-cushioned sole.

This particular pair features a black nubuck, patent and mesh-based upper with white accenting the side panels, Vector branding, Wall's signature on the right medial collar and his brand new "JW" logo centered on the tongue. Red takes care of the laces and inner liner, while a blue-tinted translucent outsole with increased herringbone traction finishes things off below.
The site also reports the shoe will be available in October and will sell for $115.
While the design still doesn't come close to doing Wall's game justice, the color combination makes a bit more sense. The blue sole and white dotted upper at least tangentially recall various Air Jordans, so that's a start.
The real question this shoe design prompts: How long until the Zig gets the axe?
Related: Chicago
Bulls
point guard
Derrick Rose
has
a new adidas shoe
coming out in October as well. His shoe looks normal.
Hat tip: DimeMag.com.

Image via SoleCollector.com