Posted by Ben Golliver.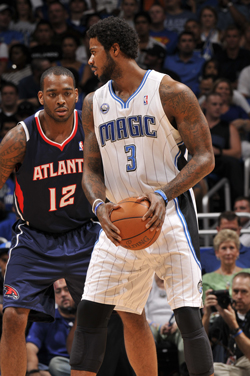 An NBA player is heading to China to play professionally next season. This one isn't a "stop the presses" signing, but it certainly could be a sign of things to come.
Yahoo! Sports reports
that free agent
Earl Clark
, a seldom-used forward who most recently played for the Orlando
Magic
, is headed to China.
Orlando Magic free agent Earl Clark has reached an agreement on a one-year contract with Zhejiang of the Chinese Basketball Association, league sources told Yahoo! Sports.

The deal will pay Clark in the "high six figures," one source said.
HoopsWorld.com confirms
the deal and both sites report that Clark will not have an NBA out clause in his contract.
Clark made more than $2 million last season but, in a somewhat unusual move, didn't have his rookie option picked up. He's a long, athletic player but hasn't found much court time in the NBA, averaging 3.3 points and 1.8 rebounds in 9.1 minutes per game in his two years in the league.
What's most interesting here is that Clark is just 23 years old. He was selected in the 2009 NBA Draft lottery by the Phoenix
Suns
and was a toss-in in last December's blockbuster trade that sent
Vince Carter
and
Marcin Gortat
to the desert for
Jason Richardson
and
Hedo Turkoglu
.
That Clark was willing to settle for a deal that will pay him less than half of what he made last season and doesn't include the flexibility that comes with an NBA opt out was no small decision. It speaks to his lack of leverage and the uncertainty in the marketplace. His only motivation to settle for such a deal is because it is "better than nothing" and could very well be better than what's out there for him a month from now. Clark is still an NBA-quality talent but he, or anyone in his situation, needs the money.
That's more than enough motivation for someone wondering where his next paycheck is coming from to take quick action. And it's more than enough reason for NBA fans to get another shiver down their backs, wondering if the 2011-2012 season will ever take place.