Posted by Ben Golliver.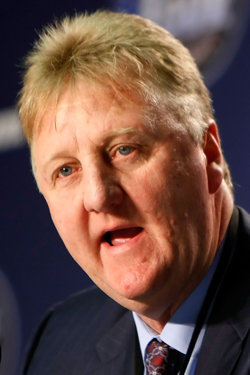 Not even Larry Legend is immune to the NBA lockout blues.
Indiana
Pacers
president and Naismith Basketball Hall of Famer Larry Bird's organization got bit by the lockout bug this week, as the Pacers reportedly laid off three long-time scouts to trim their budget.
Yahoo! Sports has more
.
In another lockout-related cost-cutting move, the Indiana Pacers have let go of three veteran scouts, league sources told Yahoo! Sports.

Joe Ash, Leonard Perry and Brian Winters didn't have their contracts renewed for the 2011-12 season.

"I had a great run there with Larry Bird, and appreciated the opportunity to work with Larry and the Pacers," Ash told Yahoo! Sports when reached at his Naples, Fla., home on Monday. "I would've liked to continue, but I understand the nature of the business. Hopefully something else will turn up once [the lockout] gets sorted out."
IndyStar.com reports
that the moves were not publicly forecasted, as Jim Morris, the team's Sports and Entertainment President, said earlier this summer that there wouldn't be layoffs because of the lockout.
The moves come at a critical juncture for the Pacers future. In our summer
Roster Rankings
, Indiana placed No. 10 in the league thanks to a young core that includes
Roy Hibbert
,
George Hill
,
Darren Collison
and
Paul George
. The team also boasts
Danny Granger
and cap space to make a splash during the next free agency period.
The Pacers are one major signing and a tweak or two from being long-term players in the Eastern Conference. It makes sense that their basketball operations focus would shift from scouting college players to focusing on pro personnel, and the organization recently hired former Portland
Trail Blazers
GM Kevin Pritchard to assist in that effort.
Still, this is almost certainly simple belt-tightening. The Pacers ranked dead last in average home attendance last season and their gate receipts are
well below
league average, while ownership reports that it has sustained heavy losses for years.