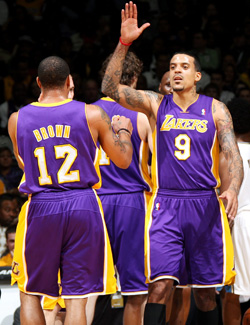 By Matt Moore
Ths is the most
Matt Barnes
story you will read this year.
Barnes
punched a player last week
in a Pro Am league he was playing in, then owned up for it and didn't back down at all from the act. Now he'll face the "devastating" consequences. Barnes was suspended by the Pro Am league for Game 1 of their playoffs Monday,
according to ESPN Los Angeles
who found the posting on FaceBook.
Barnes
spoke with the local CBS affiliate Channel 2 after the event
.
Barnes prides himself for being tough and scrappy, but at some level, he's an NBA player. He should be above this kind of stuff, if only to protect his image. Maybe he doesn't care, anyone that gets elbowed in the face is going to get mad, is likely going to retaliate. It just would have been less embarrassing for himself and the team which is currently not paying him to force him into a paycut if he had just apologized and moved on. Getting suspended from a Pro Am just isn't a good look.