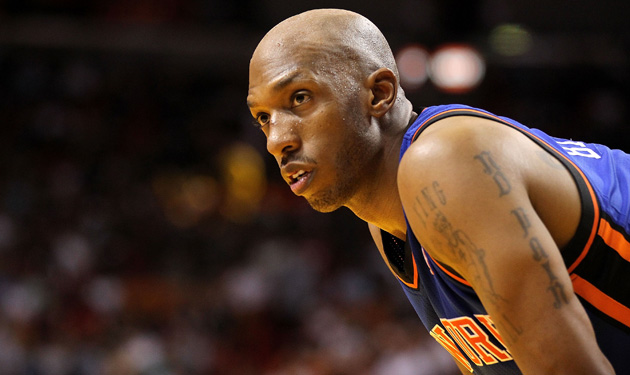 By Matt Moore
This is the third segment of the CBSSports.com Eye on Basketball Elite 100, counting down the top-100 players in the NBA.
Check out the earlier installments: 100-91 | 90-81 | 71-80

As we move on, we're starting to see an interesting mix of stars blending together with what are the NBA equivalent of critically received indie albums. Guys like Aaron Afflalo and
Nicolas Batum
aren't starring in commercials nationally, but they're the kind of guys who can help your team win. Six of the players in 61-70 are under 26. Only two players did not make the playoffs, and one has excellent upside and the other missed the playoffs by only a handful of games. We're starting to get to the meat of the rankings.
Things become tough here. Is
Kyle Lowry
really not as good as
Chauncey Billups
? Is Aaron Afflalo better than
Wesley Matthews
, despite a much smaller role? Can Jennings' promise make up for a downturn as a sophomore? In a difficult exercise, this is where things start to get nearly impossible.
In figuring all this out, this is kind of like the stock market. And in times like these, you know how unstable that can be. Some of the younger players like
Brandon Jennings
you want to buy at a stock this low, and some of the players whose ages are getting up there you want to drop like Billups who will be 35. Just one problem. The gap between those two point guards? Winning
Right or wrong, and sometimes it's very, very wrong, being a part of a winning team means something in this league, and it means something in these rankings. There's a subtle element of making your teammates better. Maybe that's offensive rebounding and providing them more possessions. Maybe it's leadership on and off the floor, keeping their team's head where it needs to be. Maybe it's being the emotional spark plug. But most of the players on this list bring something beyond the stats, and they have the record to show for it. This is the big time, and the cost of doing business is victories.
70. Kyle Lowry, PG, Age 25, Houston Rockets2011 Stats: 13.5 ppg, 6.7 apg, 4.1 rpg, .506 eFG%, 16.5 PERComposite rankings (random order):79, 69, 67
: This is another one of those rankings that make us nervous. Lowry was ninth among point guards playing 20 minutes in Assist Ratio. He averaged 14-7-4 and played great defense. The only thing really dragging him down statistically is his shooting percentage. Lowry raised his 3-point percentage 10 percentage points to 37 percent, and still topped out at 42 percent from the field. He's efficient, but only really in spurts. That he wound up with as great of a season as he did speaks to his overall ability. If Lowry keps improving (a challenge as he just hit 25), there's some room to jump there. As it is, we'll congratulate Lowry on a tremendous season and hope he sustains it going forward. KLOE. (Kyle Lowry Over Everything, via
Zach Harper
.)
69. Wesley Matthews, SG, Age 24, Portland Trail Blazers2011 stats: 15.9 ppg, 3.1 rpg, 2.0 apg, 1.3 spg, .449 FG%, 15.5 PERComposite rankings (random order): 53, 60, unranked
Throwing aside his rather absurd contract, Matthews ranked 47th among all guards playing 20 minutes a night in PER. He was 17th in True Shooting percentage, however, even if he was just 38th in points among the same group. Matthews is an expensive reserve guard, and that fits his spot here well. He's versatile, though. If it weren't for the glutton of players at the same role, he likely would have found himself higher.
Matthews has games where he looks very much like a quality roleplayer. He's in an uncomfortable spot, splitting time with
Brandon Roy
. At age 24, he's not a spring chicken, but he's still got room for growth. He needs to focus on defense to round out his game (he's already fairly solid on defense), and learn to be more of a playmaker. The Blazers need playmakers, not just finishers. He'll have a bigger role with
Rudy Fernandez
moved on, though. Every minute counts.
68. Aaron Afflalo, SG, Age 25, Denver Nuggets2011 Stats: 12.6 ppg, 3.6 rpg, 2.4 apg, .498 FG%, .423 3pt%, 14.8% usageComposite rankings (random order): 79, 64, 79
Aaron Afflalo shot 50 percent from the field last year. Now, that's a pretty good number if you're a center or power forward. It's quite another thing if you're a perimeter player. Quite simply, Afflalo can shoot the rock. He's a deadly shooter who doesn't overshoot. He's like
J.R. Smith
with a conscience. Afflalo's likely to see his role grow in Denver next season. If he can improve defensively and become more of a playmaker, he's got a real shot at being a legit star. He's already 25, though, so the clock's ticking, just like Lowry.
Until then, he's a crack shooter on a playoff team who the Nuggets are likely making room for by letting
Wilson Chandler
head elsewhere and building around Lawson and Afflalo. The kid I call Spellcheck is poised to have a real shot to make himself a name.
67. Nicolas Batum, SF, Age 22, Portland Trail Blazers2011 Stats: 12.4 ppg, 4.5 rpg, 1.5 apg, .9 spg, .6 bpg, 14.8 PERComposite rankings (random order): 74, 65, 71
AKA The Untouchable Blazer. Batum isn't an elite scorer. He's not a tremendous rebounder or a brilliant passer. Batum is the entire package. He's a player you can plug into a rotation spot and watch him work at both ends. Key 3-pointer? He can hit it. Need a steal and a dunk? He can make it happen. Need to lockdown a perimeter weapon? He's your guy. Batum has been targeted in trade after trade in the past two years and the Blazers have rebuffed every offer. Batum's overall value as a basketball player extends beyond specific roleplay and into comprehensive ability. That's why he's here, and there's a strong likelihood he'll head up the numbers in the next few years.
66. Brandon Jennings, PG, Age 20, Milwaukee Bucks2011 Stats: 16.2 ppg, 4.8 apg, .390 FG%, 15.6 PER, 25.5% usageComposite rankings (random order):
Brandon Jennings shot less than 40 percent from the field last year. You don't have to like numbers to know that's bad. Jennings had one of the worst assist ratios among point guards playing 20 minutes in the league. He suffered through an injury which held him to missing nineteen games. And his shot selection often borders somewhere between perplexing and the edge of insanity. Still, you want to buy low here. Jennings has shown a willingness to improve, he doesn't turn 21 until the fall, and has been putting in the work during the lockout. He's low today. A year from now? We think he'll be higher. For now, he's stuck with that percentage, the injury, and room to grow.
The question is if he can learn to have a shooting conscience, or if he's just going to try and do what he does, just make more. Not a bad plan, but a better philosophical approach might do wonders for the kid.
65. Jason Richardson, SG, Age 30, free agent2011 Stats: 15.6 ppg, 4.1 rpg, .396 3pt%, 20.6% UsageComposite rankings (random order): 85, 50, 70
Richardson likely would have cracked top fifty before last season. He was a key player for the
Suns
' 2010 Western Conference Finals run, and was filling it up as usual to start the year in Phoenix. Then in Orlando, things fell off a cliff. Richardson never got comfortable, averaged just 13.9 points on 43 percent shooting, and saw the
Magic
fall to the floor in the playoffs after a
Hawks
haymaker. Richardson's a free agent when the offseason begins, and will likely carry a large amount of interest from contenders. But at age 30, there's only so much left in the tank for Richardson as a starter.
64. Emeka Okafor, C, Age 28, New Orleans Hornets2011 Stats: 10.3 ppg, 9.5 rpg, 1.8 bpg, .573 FG%, 102 Def RatingComposite rankings (random order): 73, 60, 70
Centers are at a premium in this league. And Emeka Okafor's a pretty good one. After a disappointing first season in New Orleans, Okafor responded and became the third component in
Chris Paul
-David West- capable center that the Hornets have used as a blueprint for success. Specifically, Okafor is a tremendous defender at the rim. It's true that after this year's playoffs, the Hornets look terrible for trading
Tyson Chandler
, now champion Tyson Chandler, but Okafor is a quality center in this league. Unfortunately at 29 next year, he'll likely never reach his draft ceiling and will have to settle for just being the kind of guy a playoff team can rely on.
63. Serge Ibaka, PF, Age 20, Oklahoma City Thunder2011 Stats: 9.9 ppg, 7.6 rpg, 2.4 bpg, .543 FG%, 6.5 blk%, 17.7 PER, 27.0 mpgComposite rankings (random order): 63, 65, 59
Oh, Iblocka. One of the most divisive players in the league. Everyone loves his energy. Some people trust his jumper. Some people think he's impetuous and gets caught with his head spinning. Ibaka is going to improve and will be a force to reckon with. But for all his defensive stewardship, the Memphis series exposed that a crafty offensive post player can put him into a tizzy, while his offensive reportoire still needs work. Ibaka had one of the lowest variances in scores in the back half of our list. We all know he's pretty good, we just know he's not top fifty. Not yet.
62. Elton Brand, PF, Age 31, Philadelphia 76ers2011 Stats: 15 ppg, 8.3 rpg, 1.3 bpg, 18.5 PER, .512 FG%, .780 FT%Composite rankings (random order): 43, 85, 59
Finally, a bounceback year from Elton Brand. Brand's resurgence under Doug Collins was long overdue, but still solid. Brand scored the same number of points per 36 minutes that he did in 2010, but he shot over 50 percent for the first time since 2007. He played 81 games, helped the Sixers make the playoffs, and increased his rebounds and blocks, and lowered his turnover rate. Brand is getting up there and his ability to contribute will only decrease, especially with his knee issues.
But 18.5 PER and 1.3 blocks per game as the rock of a Philadelphia team we're still not sure how they made the playoffs? That's pretty good stuff for a guy who cruelly saw what would have been his prime ruined by injury. To work as hard as he has to get back and produce is wothy of respect, and this rating respects that.
61. Chauncey Billups, PG, Age 34, New York Knicks2011 Stats: 16.8 ppg, 5.4 apg, 1.0 spg, 2.0 tov, 18.7 PER, 72 games playedComposite rankings (random order): 75, 34, 74
So two of us think Billups is pretty much over, and belongs squarely towards the end of this list. One of us thinks he's pretty good. The truth, as always, is somewhere in the middle. Billups' field goal percentage dropped to 40 percent last season. That's just slightly better than Brandon Jennings. The difference is that Billups is exceptional at drawing fouls and converting at the free throw line, still is an excellent defender, knows how to run an offense, produces assists at a decent rate, and knows how to run a team. But most importantly, consider this. The last time Billups did not play a single game in the NBA playoffs was the year 2000. He's been a part of the playoffs for a decade, mostly in prominent roles. He'll fall down this list next year; the guy's going to be 35 for crying out loud But for now, he sticks at 61.
Stats courtesy of
Basketball Reference
and
HoopData
.