Posted by Ben Golliver.
Living life as a troubled genius can be a tortuous existence. Vincent Van Gogh proved that fact when he cut off his own ear. Sacramento
Kings
big man
DeMarcus Cousins
proved it again when he channeled his inner angst to tattoo the word "misunderstood" and a question mark on his lower left leg.
The tattoo is particularly meaningful because the font is so smushed that it's hard to read at first glance. The tattoo, like Cousins, is therefore difficult to comprehend. It's unclear whether this was an additional layer of artistic touch or purely an accident. Either way, it encourages the viewer to consider Cousins that much more deeply, to strive to understand. If he gives us a few more ink clues, perhaps we will get there one day.
Anyway, here's a picture of DeMarcus Cousins' leg tattoo
courtesy of his Twitter account.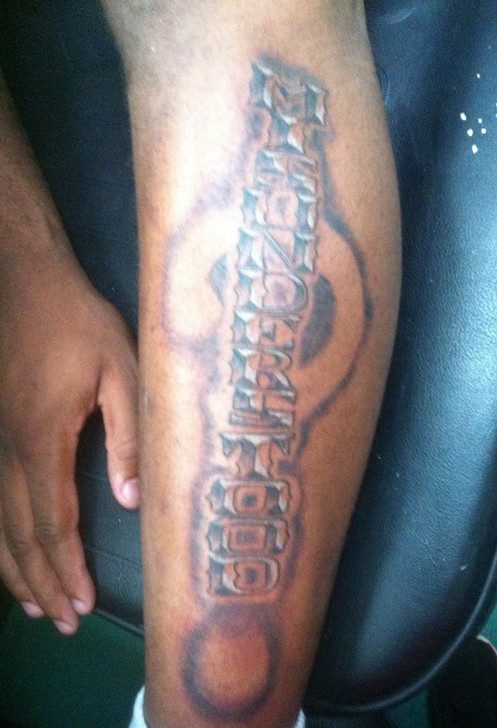 Sacramento's emo big man was recently ranked as
the No. 77 player
in the NBA in CBSSports.com's Elite 100.
Cousins was a top-10 knucklehead last year. He was benched for making a choke sign at an opponent during a free throw attempt. He was thrown off the team plane for fighting with a teammate. He was kicked out of practice. He was fined for undisclosed reasons. He was ejected from a game for shoving Martell Webster during a fracas. The list goes on and on.

There were two bigger concerns than all of that immaturity: turnovers and efficiency. Cousins committed 3.3 turnovers in just 28.5 minutes per game and shot just 43% from the field. It's not unusual for young big men to deal with those issues, though, and improvement in both categories going forward is a virtual certainty, as Cousins learns how to adjust to the NBA game, NBA officials and figures out how to best use his huge frame and excellent instincts around the basket. Despite his many flaws, Cousins' size and skill give him a chance to be a top-25 NBA player far more quickly than you might expect. The talent and potential are there, lurking beneath the surface.
Want to see more NBA tattoos? We've got you covered.