By Matt Moore
File this under "Talking the talk without walking the walk." That file's going to be getting pretty hefty at this point. May need to get a cabinet for it.
Anyway, Happy Walters, agent to
Amar'e Stoudemire
and
Wilson Chandler
took to Twitter Friday to share the news that you should expect a number of players to finally make the plunge in signing contracts to play overseas. From Twitter: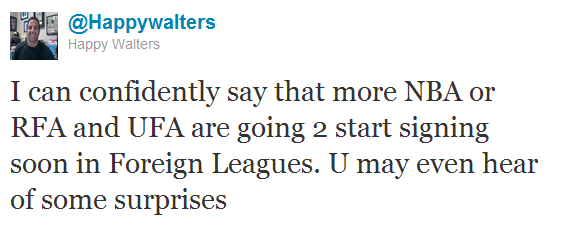 OK, so an agent is making big words. Big deal. That's the whole thing, is the player's side making big talk and having nothing besides
Deron Williams
signing with a team whose assets are frozen to show for it? That's the problem, right? Well,
except Draft Express is confirming Walters' claim
, saying that the current state of the CBA talks have created "wide spread panic" according to an NBA agent.
We've been hearing this talk for weeks, and this is just the most recent update to that talk, with no real substance, again, beyond Deron Williams' contract. But having it come from an actual agent, versus unnamed sources, or a player saying he is "considering options" takes it up a step. Having that claim confirmed by a respected independent source is another step. Consider this a small escalation and a slight momentum shift towards an all-out exodus, no matter how unlikely. We'll keep you updated if those odds start to tilt.