Posted by Ben Golliver.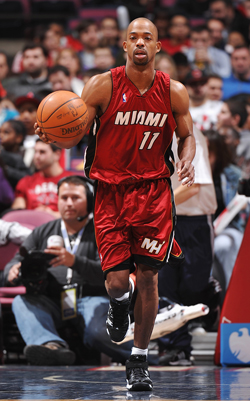 Retired NBA veteran point guard Rafer Alston -- better known by his playground nickname "Skip to my Lou" -- stands as one of the few streetball legends to hit it big and make the pros.
Now he's being sued for allegedly hitting a fellow strip club patron with a bottle.
The New York Post has the gory details
.
The former NBA athlete, 35, who's originally from Jamaica, Queens, attacked fellow Perfection Gentleman's Club patron Erick Franceschini, 32, of Milford, Conn., during a knock-down-drag-out free-for-all in July 2010, according to papers recently filed in Queens Supreme Court.

Alston smashed Franceschini with the bottle during a dispute that began in the Woodside, Queens, club and spilled out on the street, said Franceschini's lawyer, John Rapawy.

"My client had 12 staples in his head. He suffered a concussion," the lawyer said.

The lawsuit seeks unspecified damages from the millionaire ex-hoopster, who now lives in Boca Raton, Fla., as well as the strip club.
Alston was not arrested for the incident at the time, although the report notes that a complaint was filed against him.
The good news for Alston is that he only checks in at No. 2 on CBSSports.com's "Former NBA Players Making Bad Legal Headlines" Power Rankings list this week. Samaki Walker holds a firm grip on the top spot after trying to
eat his marijuana
during a traffic stop in Arizona.
Alston first rose to prominence thanks to the
And1 Mixtape
, which brought his Harlem Globetrotters like flashy dribbing and passing skills to a national audience. He went on to average 10.1 points, 4.8 assists and 1.2 steals during an 11-year NBA career that included stops with the Milwaukee
Bucks
, Toronto
Raptors
, Miami
Heat
, Houston
Rockets
, Orlando
Magic
and New Jersey
Nets
. Alston last played in the NBA during the 2009-2010 season.