Posted by Royce YoungRankings by EOB Staff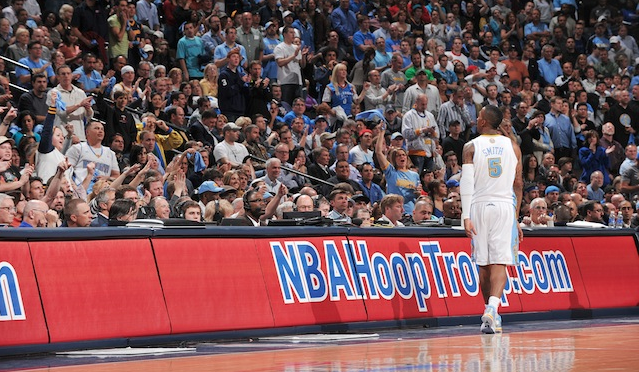 Moving right along in our top 100 NBA players, we're checking 90-81. Here's the thing about these type of lists: They only get tougher the further you go along. What makes No. 86 better than No. 88? What moves one guy up to No. 80 and drops another to No. 89. These are the tough calls we had to make and they're also the tough calls that you're likely to yell at us about.
Such is list making.
But we march on towards No. 1 with 90-81.
(
Click here for 100-91)
90. JaVale McGee, C, age 23, Washington Wizards2011 stats: 10.1 ppg, 8.0 rpg, 2.4 bpg, 55 FG%, Composite rankings (random order): 91, 94, 83
McGee's ceiling could either be the next incredible talent or the next incredible disappointment. He can swallow shots with one hand, finish an alley-oop from anywhere and really and truly tries hard. He lacks in consistently rebounding and mentally, he's a bit of a spazz.
He might very well be forever just a raw talent that never truly develops, but even if this is the player the Wizards will forever get, having a 7-1 athletic freak for
John Wall
to toss oops to isn't really a bad thing. It's just a matter of wishing and hoping he can become something more, which might be what McGee's future is.
89. Marcus Camby, C, age 37, Portland Trail Blazers2011 stats: 4.7 ppg, 10.3 rpg, 1.6 bpg, 39.8 FG%, 14.85 PERComposite rankings (random order): 75, unranked, 92
Funny that Camby is right ahead of McGee because really, Camby is the goal for someone like him. Camby's finest hour might've been the impact he made in the 1998-99 playoffs as the
Knicks
made an improbable NBA Finals run. He blocked everything, rebounded, defended and scored.
Eventually Camby evolved into a quality but not great big man. Someone that could plug the middle, influence the paint defensively, rebound and sometimes step out and hit a little jumpshot. And that's still he is now. He's not a marquee big man but in terms of having a player that's going to consistently impact a game, Camby is still that even at 37.
88. Marcus Thornton, SG, age 24, Sacramento Kings2011 stats: 12.8 ppg, 1.8 apg, 3.5 rpg, 43 FG%, 36.8 3P%, 16.52 PERComposite rankings (random order): unranked, 71, 96
Did you know that in 27 games with the Kings last season Thornton averaged 21.3 points a game? On 45 percent shooting including 36 percent from 3? He even added 3.4 assists and 4.7 rebounds a game to that too. That's pretty darn good right there.
For whatever reason, Thornton found himself in Monty Williams' doghouse in New Orleans after having a good rookie season off the bench for the
Hornets
. He was dealt to Sacramento and because of
Tyreke Evans
' nagging toe injury, found himself with a heap of playing time. And he took advantage of every second, cementing himself as part of Sacto's scoring core. He's just 24 and will enter his fourth season next year. We know he can score but as he showed off with the Kings, he might be able to do a bit more than that too.
87. J.R. Smith, SG, age 25, Denver Nuggets2011 stats: 12.3 ppg, 2.2 apg, 4.1 rpg, 39 3P%, 16.43 PERComposite rankings (random order): 88, 98, 77
The way these rankings are unfolding is cracking me up. It wasn't intentional but just like McGee-Camby, Thornton and J.R. Smith really are similar players. Smith is the bench gunner that can either shoot you in, or out, of a game. He's an infuriating talent because honestly, there's no good reason Smith shouldn't be one of the five best shooting guards in the game. He's got every bit of ability needed to be that. He just can't keep his head straight long enough to do it.
He is still just 25 and there's time yet for him to really put a season together. He's likely to be moving on from the Nuggets and maybe that's what he needs. A fresh start and a new coach that understands how to manage his erratic talent.
86. Mike Conley, PG, age 23, Memphis Grizzlies2011 stats: 13.7 ppg, 6.5 apg, 3.0 rpg, 44 FG%, 36.9 3P%, 15.90 PERComposite rankings (random order): 88, 89, 80
Remember that $45 million extension that looked really stupid at the time? Now it's looking almost somewhat good. Conley put together his finest year as a pro, leading the Grizzlies deep in the postseason while playing a steady, controlling point guard. He's not an outstanding point man by any means, but having a guy that can score, dish and shoot is pretty much the idea in today's NBA. The question with Conley however is, is this all there is? Can he go up from here or is he topped out? I don't really see a way for him to really leap ahead, but you never know. We all thought that extension wasn't a good idea and look how that turned out.
85. Wilson Chandler, SF, age 24, Denver Nuggets2011 stats: 15.3 ppg, 1.7 apg, 5.7 rpg, 44 FG%, 34.9 3P%, 14.68 PERComposite rankings (random order): 77, unranked, 79
Not that Wilson Chandler is going to be an All-Star small forward or anything, but the Nuggets definitely came out solid form the
Carmelo Anthony
mess mainly because they were able to add Chandler to the deal. He finished up scoring the ball really well even though he completely disappeared in the postseason. He's just 24 and has steadily improved since day one of his NBA career.
Donnie Walsh was a big fan of his in New York and almost didn't push the button on the Melo deal because he didn't want to part with Chandler. He's got the chance to be a really nice two-way 3 in the league and if he can figure out a role with whoever he lands with in free agency, he could maybe at least make a little All-Star noise one day.
84. Ben Gordon, SG, age 28, Detroit Pistons2011 stats: 11.2 ppg, 2.1 apg, 2.4 rpg, 44 FG%, 40.2 3P%, 12.46 PERComposite rankings (random order): 93, 78, 83
So evidently Ben Gordon wasn't really worth that massive contract the Pistons tossed at him. Hard to know that though, especially with the way he torched the
Celtics
in the 2009-10 playoffs. There was a time where Gordon, a 6-3 shooting guard, was maybe one of the toughest covers at that spot in the league. And really, he probably still is if he can just get his act together.
He shoots too much and often goes tunnel vision with the ball in his hands. But when he's cooking, there might not be a better short scorer in the league. His 2010-11 was very down, but this is a guy that averaged more than 15 points a game every year before he landed in Detroit, including two years over 20.
83. Andrea Bargnani, C, age 25, Toronto Raptors2011 stats: 21.4 ppg, 5.2 rpg, 0.7 bpg, 8.6 RR, 53.3 TS%, 16.50 PERComposite rankings (random order): 96, 67, 87
If basketball had a defensive DH -- or in this case a DD, designated defender -- Bargnani would maybe be a top 20 player. He's almost everything
Dirk Nowitzki
is offensively, especially at the age of 25. He's seven feet, can hit from anywhere, puts the ball on the floor and can shoot over anyone. He's not Dirk in terms of efficiency -- or anywhere close -- but just for comparisons sake, he's similar.
It all falls apart in terms of rebounding and defense though. Basically any board Bargnani grabbed is a result of it just bouncing straight to him (his rebound rate was an embarrassing 8.6 last year). He's not aggressive and doesn't attack. His defensive rating was atrocious last season (115.0) and he basically has no idea how to move his feet on a pick and roll.
But on the offensive side, good. Defense, bad. Hence, No. 83.
82. Jrue Holiday, PG, age 21, Philadelphia 76ers2011 stats: 14.0 ppg, 6.5 apg, 1.5 spg, 44.6 FG%, 52.5 TS%, 15.49 PERComposite rankings (random order): unranked, 73, 74
You may have forgotten about Jrue Holiday, the 76ers 17th pick in 2009. You may have assumed he wasn't panning out, that he was just a forgotten mid-first-round pick. But really, he was pretty darn good last season. Nothing spectacular -- 14.0 points, 6.5 assists and a PER of 15.49 -- but if we're all in agreement Mike Conley had a fine year, then you've got to say Holiday did too.
And, he's a pretty fine defender at that as well. He's got really long arms and plays passing lanes well (1.5 steals per game last year) and isn't afraid to work. He's only 21 and there's a chance that Holiday is on the way to being a name thought of first instead of last when talking about good young point guards.
81. Raymond Felton, PG, age 27, Portland Trail Blazers2011 stats: 15.5 ppg, 8.3 apg, 3.6 rpg, 42.5 FG%, 35.3 3P%, 16.68 PERComposite rankings (random order): 68, 84, 90
For a while there last season, Felton was a borderline All-Star with the Knicks. He was running Mike D'Antoni's show pretty well and was meshing really well with
Amar'e Stoudemire
in the pick and roll. He was finding his places to shoot and score, but knew when and where to play setup.
Then he got dealt to Denver in the Melo deal, found himself out of the starting five and while still finished strong with the Nuggets, wasn't exactly anything close to an All-Star level player. Not to say he didn't have a good year, because he did. Especially when you think about it being a follow up to what's probably his breakout season in 2009-10 with the
Bobcats
.
The Blazers picked him up on draft night for
Andre Miller
and there's a good chance he's going to return to that borderline All-Star level play now that he doesn't have
Ty Lawson
hogging minutes in front of him. That is if he can keep away from the cupcakes.