Posted by Ben Golliver.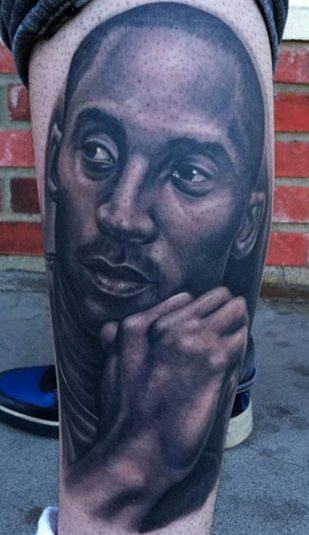 Last week
, we pointed you to the curious case of Nathan Blackhall, a
LeBron James
super fan who tattooed the All-Star
Heat
forward's face on his leg, giant headband and all.
Just when we thought James had the "NBA player with an obsessed fan who went way too far with the body art" crown wrapped up, an excellent and familiar challenger emerged: Los Angeles
Lakers
guard
Kobe Bryant
.
Bryant has been around longer, won five more rings, played in a larger market and established a global popularity that makes him the gold standard for James to match, along with Michael Jordan, of course.
So it comes as no surprise that a member of Bryant's large legion of devoted followers crammed a giant portrait of Bryant on his lower leg, an image even more detailed and rich than the James monstrosity.
Just take a look to the right. Bryant is pictured in a thoughtful pose, chin resting on his hand as if he's deep in thought and eyes looking out to the distance.
Unfortunately the fan has yet to be publicly identified. Well, maybe that is fortunate, given the endless mocking that always results from this painted tributes.
Want to see more NBA tattoos? We've got you covered.
Hat tip: Complex.com
.