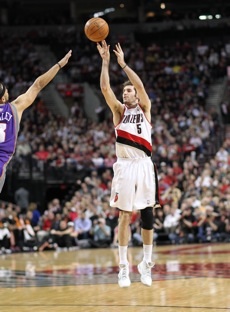 Posted by Royce Young
Hot weather. Swimming. Beaches. Swimsuits. Hot dogs and beer. All summer staples. I think you can add another to that list:
Rudy Fernandez
talking to Spanish teams.
Early in July,
Fernandez reportedly got a massive offer from Reali Madrid
, but then said he
intended to fulfill his NBA contract
. But with Rudy, things tend to go back-and-forth when it comes to returning to Spain.
Via HoopsWorld:
Fernandez's camp met with Real Madrid last week, and the two sides have remained in contact in recent days. A six-year deal starting at 2.5 million euros ($3,562,250) is currently being discussed, according to multiple sources with knowledge of the negotiations. …

While the small forward's deal may include a NBA-out, sources close to the situation believe that Fernandez wants to commit to Real Madrid long-term. Unlike other NBA players signing overseas, Fernandez doesn't view Spain as a temporary landing spot. He sees himself continuing his career with Real Madrid long after the lockout has ended. However, Fernandez has one year remaining on his NBA contract, which could force him to report to the Dallas Mavericks if the work stoppage ends in time to save the upcoming season.
Hey, at least this isn't Portland's headache anymore. Last summer, Fernandez flirted with Spanish teams for a number of months, even taking it so far that his agent had to be fined for comments about it. Now Fernandez is a member of the Mavericks after being traded on draft night.
This isn't just a lockout contingency plan for Fernandez. He wants to sign with Madrid and make it a long-term deal. Currently Fernandez has one year left on his deal with a qualifying offer available for another.
The original offer he received from Real Madrid was a six-year deal and equated to about $4.4 million per year. So that would be around $26 million over six years, which is a pretty massive offer from a Spanish team. Right now, Fernandez is making about $2 million for this year on his rookie deal with next year's qualifying offer being for $3.2 million.
Fernandez's potential deal would include an NBA opt-out, but that's just to get through his current contract. Which is what he said he wanted to do. After that, all bets are off. So he might play a little in Spain, come back, and then go to Spain again for the long term.