Posted by Ben Golliver.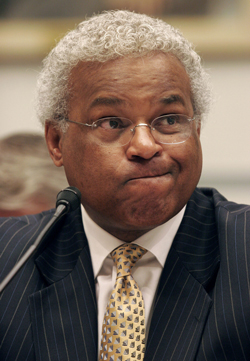 On Tuesday morning, we noted
that the NBA filed two legal actions against the National Basketball Players Association. These claims included an unfair labor practice charge and a federal lawsuit. The NBA claimed the Players Association was not bargaining in good faith and that the lockout does not violate federal antitrust laws. The legal actions came one day after NBA commissioner David Stern told reporters in New York City that the players were
not bargaining in good faith
.
Billy Hunter, executive director of the NBPA, issued the following statement in response to the legal actions on Tuesday afternoon.
"The litigation tactics of the NBA today are just another example of their bad faith bargaining and we will seek the complete dismissal of the actions as they are totally without merit. The NBA Players Association has not made any decision to disclaim its role as the collective bargaining representative of the players and has been engaged in good faith bargaining with the NBA for over two years. We urge the NBA to engage with us at the bargaining table and to use more productively the short time we have left before the 2011-12 season is seriously jeopardized."
Reading between the lines of the legal mumbo jumbo, Hunter is calling these lawsuits a waste of time. He also ties that wasting of time to the potential for missing games next season, reiterating
a stance that surfaced last week
in which he sounds convinced the entire 2011-2012 season is in jeopardy.
It's unclear exactly when or how the NBPA issued the "unlawful threats to commence a sham decertification" that the NBA claims in its unfair labor charge. I guess we'll just have to stay tuned to the daily machinations of this gripping legal saga to find out!