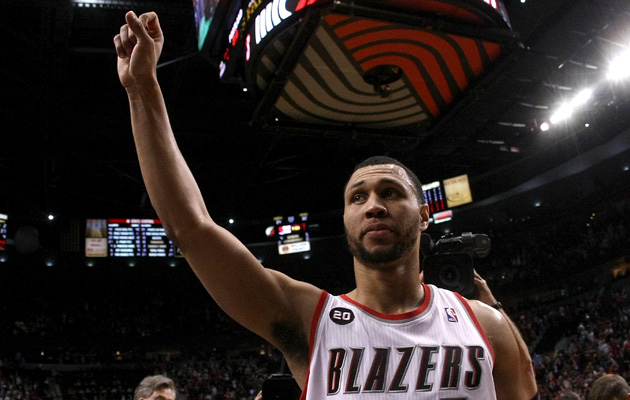 By EOB Staff
Who are the top 100 players in the NBA? It's a loaded question. It's a complicated question. It's a question you ask when you're stuck in the second month of a prolonged lockout and you desperately need content. But it's also an interesting question. And it's one we wanted to tackle.
Starting with this post, we'll be bringing you the top 100 players in the NBA over the next few weeks. The objective was to determine the most valuable 100 players in the league, factoring how good they are right now, their age, their impact, and their limitations. The three of our crew ranked the players from 1 to 100 and then we broke down their scores. Players had to have votes from at least two of our three writers. We left open the definition of value to interpretation, and the process was absolutely brutal. Is a center right now more valuable than a guard, even if the guard is a better player? How much more valuable? Who's better, a pure shooter that can't defend or a rebounder who's an offensive liability?
This is not a perfect list. But it's our attempt at bringing order to a chaotic and disorganized world that in all honesty, requires context to provide any sense of it. So let the brutal commentary begin, as we kick off players No. 91-100. And we begin with...
100. Brandon Roy, G, age 27, Portland Trail Blazers. 2011 Stats: 12.2 ppg, 2.7 apg, 2.6 rpg, .8 spg, .400 FG%, .491 TS%, 13.9 PERComposite rankings (random order): 100, 100, 91
Now, this is just sad. Mr. Irrelevant in our list is a former All-Star, a former franchise player, a former superstar in this league. Brandon Roy would have been a top 20 player, unquestionably. But now he's simply a shell of himself. He cracks this list as a reminder of what he can be on those rare nights like Game 4 of the first round versus the
Mavericks
. When Roy is healthy enough on the night to get his run and space the floor, he's a shooter with range, a scorer with versatility, a defender with savvy. But too often he's simply not physically able to get up and down the floor, to stay in front of his man, to create the space to find his shot or to keep himself on the floor.
Roy continues to insist he can return to form, that he can overcome his limitations. Rich Cho's firing is rumored to have been influenced by his conflict with Roy. Roy's contract means he's in Portland either for a long time, or until a new CBA allows for an amnesty clause to remove him. His legacy has taken a major downgrade since the injury robbed him, and he's been resistant to face any hint of that downgrade being permanent. Roy seems intent on proving it's all eventually going to go away and he'll be back to his normal self. But that time appears over, and Roy's odds of cracking the top 100 next year seem incredibly low.
99. Marcin Gortat, C, age 27, Phoenix Suns.2011 Stats (Phoenix): 13.0 ppg, 9.3 rpg, 1.3 bpg, .563 FG%, 18.8 PER, 18.1% TRRComposite rankings (random order): 90, 95, unranked
Marcin Gortat is tentatively here. And by that we mean, we could understand putting him about 30 spots higher, or leaving him off the list completely. His production in Phoenix was unquestionable, as evidenced by the 18.8 PER. But it took Phoenix's high octane offense and the court stylings of
Steve Nash
to draw that production from him, and it was in limited time. Gortat has a high level of... ah... confidence. He believes that he can be a top center in this league. But we haven't seen enough from him to be sure he can be a difference maker on a contender, nor can we believe his offensive arsenal is versatile enough to be a true featured player.
His defense, however, earns him a spot on this list. Gortat is a smart defender with muscle who attacks the glass. He has little in the way of a mid-range game, but averaged over 1.2 points per possession in the pick and roll according to Synergy Sports. Gortat will either prove this ranking was foolish for underrating him, or foolish for buying into a small sample set. For now, he stays here, just on the edge.
98. Udonis Haslem, PF, age 31, Miami Heat2011 Stats: 13 games played, 8.0 ppg, 8.2 rpg, .512 FG%, 18.2% TRR, 12.7 PERComposite ranking (random order): unranked, 97, 86
Haslem is the most important role player on the Eastern Conference Champions, and was largely the difference in their run to the Finals. His appearance in the Eastern Conference Finals turned the series quickly and decisively. He is widely considered the heart and soul of the Heat (if there is such a thing) and the Heat were so committed to re-signing him last summer that
Dwyane Wade
convinced his other super friends to take more of a paycut to keep him.
Haslem's mid-range jumper seems to become more and more unstable as the years go on, which is a shame, since it's an essential part of his offense. His defense remains stout, though, as he was so good Coach Erik Spoelstra let him go one on one against
Dirk Nowitzki
in the key moments of the finals. Granted, Nowitzki blew by him while Haslem was trying to defend the fadeaway, but still, one out of three ain't bad!
Haslem's unlikely to appear again as the toll of his injuries and age starts to creep in, but it should be noted what a significant impact he could have had on the Heat's disappointing regular season had he not missed 69 games.
97. Ron Artest, SF, age 31, Los Angeles Lakers. 2011 Stats: 8.5 ppg, 3.3 rpg, 2.3 apg, .397 FG%, .485 TS%Composite rankings (random order): 94, 99, 89
Oh, Ron. Crazy, crazy, crazy Ron. Just a few years ago, Artest was the difference-maker in the
Rockets
finally getting out of the first round. He was a hero to the people. He was the big 3-point maker in the last Lakers championship. Then, just as mysteriously, the most likely scenario of Artest trying to fit in with Phil Jackson occurred: things came unglued. Artest registered a career low in nearly every statistical category and lost the confidence of his coach, who moved him further and further from his minutes. Artest enjoyed a career year for his image, winning the Walter J. Kennedy Award for Citizenship and having an art gallery open an exhibit inspired by him. But he never did find his location in the Triangle.
His defense, however, didn't really slip much. He held opponents to 29.8 percent in isolation situations, and opposing small forwards averaged
only a 13.8 PER against him
. That should be enough to keep him on this list until we can see what Mike Brown can do with him.
96. J.J. Redick, SG, age 27, Orlando Magic2011 Stats: 10.1 ppg, .397 3PT%, 59 games playedComposite rankings (random order): 85, unranked, 95
Can you believe J.J. Redick is 27-years-old already? That's what happens when you love college, I guess. Redick had a down year due to injury, immediately following his signing of a major contract as a restricted free agent (
Bulls
offered, Orlando matched). Redick saw a slight downturn in his shooting, and never really took control of the shooting guard spot, especially after the Magic acquired both
Jason Richardson
and
Gilbert Arenas
.
Redick's still a fine defender and has some years left, but it's starting to look like that break-out season may never come for the former Blue Devil. We'll have to see how he recovers from his late-season injury.
95. Tony Allen, SG, age 29, Memphis Grizzlies2011 Stats: 8.9 ppg, 1.8 spg, .510 FG%Composite rankings (random order): 93, 81, unranked
Did that just happen? Did Tony Allen really go from "Trick or Treat Tony" to playoff clubhouse leader and team emotional leader in the biggest upset since, well... 2007, but still?! To let you know how split we were on this one, one of us thought Allen was in the final ten, one in bottom twenty, and one off the list. Yet, there's Allen, leading the Grizzlies to their first playoff win, first playoff series win, and nearly into the Western Conference Finals.
Allen is known first and foremost as the defensive wizard, but he allowed a 15.5 PER from opposing small forwards. According to Synergy Sports, he allowed just a 34.2 field goal percentage overall, though. He was at his best when the Grizzlies needed him most and his biggest players were in converting broken passes into transition opportunities. He still believes too much in his own isolation offense, but Allen is a force enough for a playoff team to earn a spot in the top 100. Barely.
94. Greg Monroe, C, Age 21, Detroit Pistons2011 Stats: 9.4 ppg, 7.5 rpg, .551 FG%, 18.0 PERComposite rankings (random order): 94, 96, 83
That Monroe cracked this list in his first year speaks extremely well of him, comparing the train wreck of a locker room he operated in, the depth in the Detroit frontcourt, and his coach's slow spiral of disaster. Monroe's young, so his
20.5 PER allowed
can be overlooked, considering his efficiency minute-by-minute.
Monroe showed himself to be the best young player for the Pistons to build around and Lawrence Frank would do well to make him the focal point. With the right defensive system, Monroe could skyrocket up this list in the next two years.
93. O.J. Mayo, SG, Age 23, Memphis Grizzlies2011 Stats: 11.3 ppg, 2.0 apg, 1.0 spg, 12.6 PER, .499 TS%Composite rankings (random order): 87, 97, 88
O.J. Mayo lost his way this season. He was suspended for violation of the banned substances policy by the NBA, was knocked cold on a flight after a card game dispute by Tony Allen, lost his starting job, and was nearly traded for
Josh McRoberts
. Then he went on to help the Grizzlies make the NBA playoffs and hit huge, timely 3-pointers against the
Spurs
and the
Thunder
in playoff wins. He showed his scoring touch and an improved defensive acumen. He remained on the bench thanks to the woeful scoring potential of the Grizzlies' bench.
He is likely to wind up somewhere else next season, and it'll be then that it will be sink or swim time for Mayo who only two years ago looked like a star player on his way to being a legit top scoring option for a team. The sun will come out tomorrow, right?
92. DeAndre Jordan, C, Age 23, Los Angeles Clippers2011 Stats: 7.1 ppg, 7.2 rpg, 1.8 bpg, 14.8 PER, 16.5 TRRComposite rankings (random order): unranked, 93, 77
Jordan is expected to be one of the top restricted free agents when the lockout is resolved. Next to
Blake Griffin
, Jordan came into his own, as a defensive presence able to capitalize on his all-world athleticism for once. His numbers won't jump off the page at you, but Jordan wound up as a top 10 defender among the most active post defenders according to Synergy Sports. He has good defensive instincts and his per 36 numbers (10 points, 10 rebounds) extrapolate well for a larger role. Wherever he goes, even if he stays in La La Land, Jordan has a bright future as kind of "Tyson Chandler without the hype." His freakish athletic frame has been augmented by a considerable amount of weight lifting, and now the kid's a beast.
At just 23, Jordan represents the hope that the great defensive center is not yet dead.
91. Kendrick Perkins, C, Age 26, Oklahoma City Thunder2011 Stats (Oklahoma City): 5.1 ppg, 7.9 rpg, .9 bpg, 18.4 TRR, 9.1 PERComposite rankings (random order): 96, 90, 84
Perkins returned from injury, was traded, helped the Thunder make the WCF, and still wasn't the difference maker to put them over the top. Instead of trying to shut down
Andrew Bynum
and
Pau Gasol
, he wound up facing Dirk Nowitzki who worked him over in space, and
Tyson Chandler
, who uses his body and length to combat Perkins at his own game. He seemed to recover from his significant injury marginally well, but still didn't look nearly 100 percent, which is to be expected.
So at 26, which Perkins are we going to get? Pre-injury? Post-injury? Now outside of Boston's plodding system, is he too much of an offensive liability? That's what will determine if Perkins winds up earning his extension and proving the trade that brought him to OKC was Presti's final masterpiece on the way to a championship.
(For more on the Top 100 Players in the NBA,
read Sports' Illustrated's version begun this week
. Small world.)
Honorable Mention:
Glen Davis
: Great first part of his season, lousy second half, can't start, weight concerns, fell apart in the playoffs, uncertain role outside of Boston.
J.J. Barea: Short. A definitive roleplayer that can't be used just anywhere. Ill-suited to a feature role outside of Dallas. All speed, all heart.
Andre Miller
: Old. Extremely crafty and experience, knows how to play versatile and efficiently. Limited in athleticism and getting up there in age every day.
Nick Young
: Great scorer on a bad team. Help the
Wizards
go somewhere, kid's got a spot on the list.
Stephen Jackson
: Past his prime and too much of a malcontent when he's not winning. Has already started chafing with
Bucks
management and he hasn't even arrived yet.
George Hill
: Maybe Indiana will move him out of roleplayer with upside territory and into "legit starting playmaker" category.
Richard Jefferson
: Does just enough things well to not make up for his faults.
Rodney Stuckey
: Destined for Detroit Pistons Trivia Land.
Nick Collison
: Great defender. Great teammate. Great contract. Still not good enough overall to be the difference maker, though he gave it his best shot against Dirk.
DeJuan Blair
: Rebounds a lot. Too bad he can't defend anyone to
force
those rebounds. Or shoot. Or score. Or pass. But still. Rebounding. Lots of it.
Jeff Green
: No real reason to explain here, right? You either love or hate Jeff Green and you have great reasons for both.
Andray Blatche
: The fact that he was a big enough component of the Wizards the past two seasons to make the honorable mentions list for the Top 100 players tells you a lot about where the Wizards are at right now as a franchise.
Aaron Brooks
: Still underrated, and still overrated for being so underrated. Maybe he's just rated. But either way, can't do enough at both ends of the floor to crack the top.