Posted by Ben Golliver.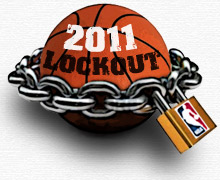 Representatives for the NBA owners and Players Association met at the Omni Berkshire Place in New York City on Monday to re-open negotiations on a new collective bargaining agreement one month after the league locked out its players on July 1.
CBSSports.com's Ken Berger was live on the scene to provide instant quotes and reaction.
The following is a selection of
Berger's tweets
from the immediate aftermath on Monday afternoon featuring quotes from NBPA president
Derek Fisher
and NBA commissioner David Stern.
The key takeaway points: no progress was made on Monday, additional meetings will be scheduled to continue negotiations and Stern apparently accused the NBPA of not negotiating in good faith.
Derek Fisher emerges from nearly 3-hour bargaining session and acknowledges owners and players are still in the same place as 30 days ago.

Fisher: "A lot of ideas are being thrown around, but it's become clear that the bottom line is the bottom line."

Fisher heading back to L.A. Both sides trying to schedule 2-3 more sessions this month, preferably on consecutive days, Fisher said.

Stern, Silver and Glen Taylor expressed desire to get deal done. "But where their proposal lies makes it hard to believe," Fisher said.

Stern: "I'm not optimistic." Then, in his last words before leaving, he essentially accused TheNBPA of not bargaining in good faith.

Asked if players are bargaining in good faith or not, Stern said, "I would say not," and walked away.

More Stern: "I don't feel optimistic about the players' willingness to engage in a serious way."
Certainly that is the strongest language that Stern or a league official has directed towards the players to date during this negotiating process.
This post will update as additional information comes in.