Posted by Ben Golliver.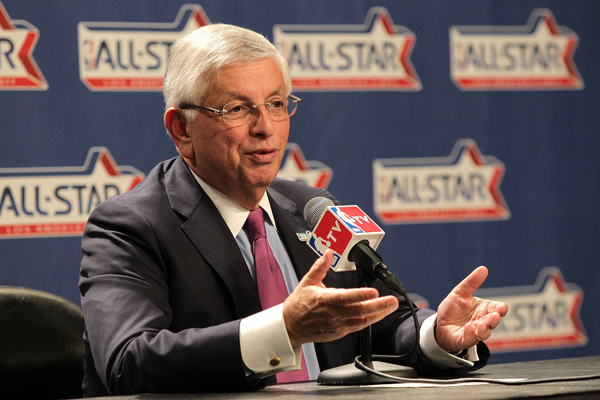 Those cufflinks could be made of solid gold, the cuffs constructed from the finest ivory.
Yahoo! Sports reports
that NBA commissioner David Stern could make more in salary than all but a handful of the league's players.
Many owners don't even know what Stern makes. "I'd say three or less know," one NBA owner told Yahoo! Sports. Several believe it's somewhere in the range of $20 million to $23 million a year, but no one knows for sure. Maybe it's more than that, but the fact that some owners don't know the answer is beyond belief.
That salary ballpark squares with
a New York Daily News report
from February -- noted by CBSSports.com's Matt Moore in
a piece on the league's opulent culture
-- which pegged Stern's salary at $23 million.
Only one NBA player is set to make more than $25 million during the 2011-2012 season: Los Angeles
Lakers
guard
Kobe Bryant
, who is on the books for $25.2 million.
Only three other players are set to make more than $20 million: Boston
Celtics
forward
Kevin Garnett
($21.2 million), San Antonio
Spurs
forward
Tim Duncan
($21.2 million) and Washington
Wizards
forward
Rashard Lewis
($21.1 million).
Stern is reportedly set to bring home more bacon than the league's worst contracts: Orlando
Magic
guard
Gilbert Arenas
($19.3 million) and Phoenix
Suns
guard
Vince Carter
($18.9 million, although only a fraction of that is guaranteed). He will also reportedly make more than most of the league's biggest stars, including Dallas
Mavericks
forward
Dirk Nowitzki
($19.1 million), Los Angeles Lakers forward
Pau Gasol
($18.7 million), New York
Knicks
forward
Carmelo Anthony
($18.5 million) and
Amar'e Stoudemire
($18.2 million), Orlando Magic center
Dwight Howard
($18.1 million) and all three of the Miami
Heat
's Big 3 of
LeBron James
($16.0 million),
Dwyane Wade
($15.7 million) and
Chris Bosh
($16.0 million).
Two pieces of information worth pointing out. First, Stern has held the commissioner title since 1984, so he's had more than two and a half decades to rack up pay raises. There's a very good chance he is the league's highest-paid employee by leaps and bounds. Second, Stern
pledged not to accept
any salary in the event of a work stoppage at the 2011 All-Star Weekend in Los Angeles.
Stern was asked whether he would reduce his salary to $1 if the two sides could not reach a labor agreement, as NFL commissioner Roger Goodell has pledged recently. Stern said: "Last time, I ddin't take any salary. I think a dollar would be too high in the event of a work stoppage."
Still, that seems like an awful lot of money for the league's chief executive. Windfall salaries for chief executives in many industries are often tied to periods of peak company performance. The NBA, though,
claims
never to have had a positive operating income during the duration of the last Collective Bargaining Agreement.