Posted by Ben Golliver.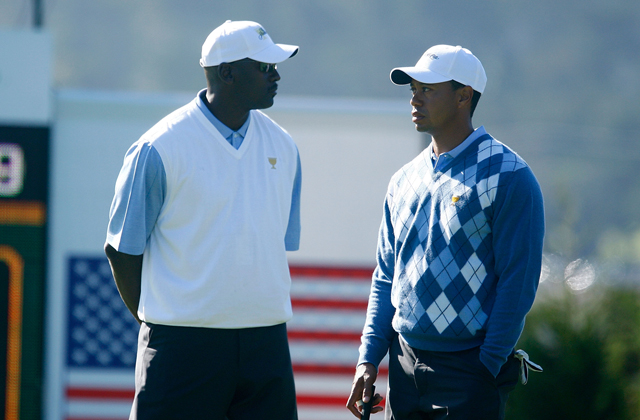 We can all agree that disgraced golfer Tiger Woods is a mess right now. There's not much point in rubbing in that fact as his career is in shambles, his marriage was dissolved and his health is touch-and-go.
But none of that stopped Charlotte
Bobcats
owner and NBA legend Michael Jordan from calling Woods "very fragile" and comparing him to a "wounded dog" in
an interview with Australia's Herald Sun
.
Jordan is uniquely qualified to give advice to Woods for at least three reasons. One: Because he understands how to deal with fame at its highest level. Two: Because he understands that elite athletes are still human and their private lives affect their on-court performance. Three: Because he is friendly with Woods and certainly commands his respect.
So what is the greatest basketball player of all time's current for the potential greatest golfer of all time? Turn the game into therapy.
"The biggest thing is that I've always - and I'm pretty sure Tiger has, too - used sport as a therapeutic tool," he said. "Once you're inside the lines, you can focus on what your jobs are and what you're doing on the court, or for him the course.


"The problem for him was that he wasn't physically capable of getting inside those lines and doing those things. I think he's been somewhat fragile mentally and physically. When I went through those [personal] issues, once I got on to the basketball court that became a therapeutic thing for me where I was able to forget all those other things."

"Once I finished playing basketball, I came out with a better understanding of the decisions I had to make. He doesn't have that now. Now he's going through something that's totally different, totally new for him and he's now acknowledging that. He needs to get healthy, mentally and physically, before he can really attack that."
Jordan was a notoriously competitive player and someone who never settled for anything short of peak performance from himself and his teammates. Here, his advice is sound.
But in the reference to a "wounded dog" and the use of the word "fragile" I vaguely detect a hint of Jordan the teammate and competitor rather than Jordan the big brother and mentor. Like the rest of us, Jordan knows that Woods is capable of so much more than he's shown recently. Like the rest of us, Jordan likely wants to watch that greatness unfold.
Sometimes competitors with lengthy, winning track records simply need to find a way to rededicate themselves, to rekindle their spark. Sometimes they simply need a new challenge or a new challenger. Perhaps Jordan is stepping into that role for Woods.