Posted by Ben Golliver.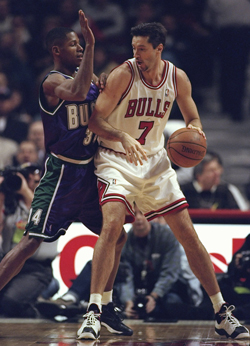 You thought Dennis Rodman was the bad boy of the 1990s Chicago
Bulls
, didn't you? Think again.
CroatianTimes.com reports
that former NBA player Toni Kukoc, who was imported to Chicago for the 1993-1994 season and was a key cog on three Bulls title teams, has allegedly found himself entangled in a prostitution ring that was recently busted back in his home country.
Croatian basketballer Toni Kukoc has shrugged his shoulders at the allegations he has been one of the "beneficiaries" of the elite prostitution ring uncovered recently in Croatia.

"I was in worse situations in life. What should I do? Return home to Split? Of course I will stay in Osijek," Kukoc told the media after his name emerged in connection with the elite prostitution ring headed by Nebojsa Perunovic Pance who was arrested last week.

Pance is suspected of pimping young starlets, wanna-be-models and other beautiful girls to Austrian businessmen, rich Russians, and it appears, sports stars.
He sure sounds really worried about this whole thing.
Croatian Times
also reports Kukoc denies the allegations so this is likely one of those "innocent until proven guilty or you pay off the right person" type of situations.
Kukoc has lived an extraordinary life, winning every possible European award, grabbing three NBA rings with Michael Jordan and Scottie Pippen, and following that up by turning himself into
Croatia's best amateur golfer
. It might seem a bit surprising at first that he would say he's been in worse situations than a prostitution scandal.
Of course you must remember that Kukoc's homeland became a country after a bitter civil war in Yugoslavia that killed hundreds of thousands and ruined relationships between Croatian and Serbian basketball players. So, yeah, this little legal drama really does pale in comparison.
Hat tip: Complex.com.