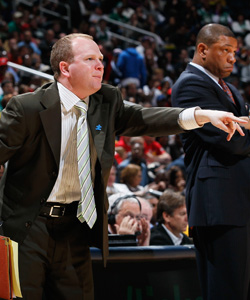 Posted by Royce Young
More than a week ago
, word broke that the
Pistons
were set to hire former New Jersey head coach and current
Celtics
assistant Lawrence Frank as their new head coach. Things have dragged out a bit, but Friday
Yahoo! Sports reports that everything is set in stone
.
Frank has reached a three-year deal with the team holding an option for a fourth. There will be a news conference early next week. Frank has already reportedly started working on filling out his staff.
According to the report, Frank was "clearly Joe Dumars' choice to replace John Kuester" and there was no close second in the process. Other candidates were Mike Woodson, Patrick Ewing, Kelvin Sampson and Bill Laimbeer.
Is it a fit? Here's what Matt Moore wrote last week when news originally broke:
The Pistons need a coach who comes in with built-in respect and having had success as a players' coach. Frank definitely fits that description, and despite the sometimes unhappy locker room in New Jersey at the end of the Jason Kidd-Vince Carter eara, Frank also continuously pulled more from the Nets than people expected, right up until the wheels came flying off in 2009. With Detroit, Frank's first order of business will be to... well, assemble a staff and then redecorate his office or something, considering he can't do anything until the lockout's lifted.

Once that's over, Frank will need to work to figure out which of the veterans are salvageable from a chemistry aspect and which of them need to go immediately. The Pistons need a youth movement, but more than that, they don't need any more hijinx from the veterans like last year. The players got what they wanted, Kuester's gone. Now the question will be whether Frank's tough, acerbic style manages to get a hold on the situation in Detroit without a full-scale clean sweep.
Kuester lost his team mid-way through the season because he was a bit demanding. But that may have been because he never actually earned the respect of the team either. Frank will be hard on his young team, but as a former head coach and someone that's coached in The Finals and won a title on the bench in Boston, he understands the line you have to walk.
Or at least that's what Joe Dumars is banking on.