Posted by Ben Golliver.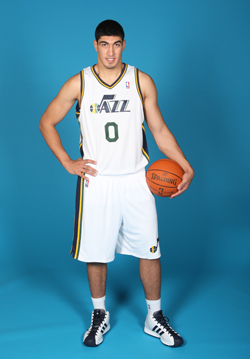 Finally, a story involving an NBA player heading overseas during the lockout that makes too much sense not to happen.
The Salt Lake Tribune reports
that Utah
Jazz
center
Enes Kanter
, the No. 3 pick in the 2011 NBA Draft, is weighing multiple offers from teams in China should the ongoing lockout continue into the fall.
Jazz rookie center Enes Kanter is considering playing professional ball in China next season if the NBA lockout persists. Kanter's agent, Max Ergul, told the Salt Lake Tribune on Friday that his client has serious offers from at least two teams. Ergul does not want Kanter to miss another year of basketball, and he will seriously entertain the offers if the lockout stretches into late September.

If the lockout does not end by mid-September and Kanter does not play professional ball overseas, he plans to work out in Chicago with trainer Tim Grover. Kanter will not return to Kentucky during the lockout.
The reference to Kentucky, of course, is a nod to
Thursday's news
that Washington
Wizards
point guard
John Wall
, Boston
Celtics
point guard
Rajon Rondo
and Los Angeles
Clippers
point guard
Eric Bledsoe
plan to return to Lexington to work on their degrees and potentially practice with the current Wildcats team.
Forget about Lexington, at least in this case. Kanter fits just about every criteria necessary for an overseas sojourn to be worth the while.
NBA LOCKOUT COVERAGE
NBA players headed overseas?
First, as a rookie, he has yet to receive a paycheck, so he needs the money far more than established veterans or All-Stars on max deals. Sure, he isn't likely to command a top-notch salary as an unproven big man, but small money is better than no money.
Second, Kanter needs the competition far more than most NBA players. Indeed, you could make a solid case that he needs the competition more than every other able-bodied NBA player. Why? Because he hasn't played in organized competition since he was a prep school player in 2009-2010, as he was forced to sit out his entire freshman season at Kentucky due to eligibility issues dating back to his time as a teenage pro phenom in Turkey. While Kanter will represent his country during this summer's EuroBasket tournament, losing another full season of development at the age of 19 would be bordering on disastrous.
Third, he's going to be locked into a rookie deal whenever the lockout ends. In other words, there is (next to) zero financial risk for him to make this move. He's not jeopardizing the money on his next contract because that money is locked in a fixed rate determined by the rookie scale.
Fourth, and finally, Kanter is a worldly young man, having played overseas previously and having travelled extensively. He's not tied to the United States like many young players and he knows what to expect from international basketball. This would be just another stamp on his passport.
If I'm the Utah Jazz, this is one of the rare circumstances where I would actually prefer one of my players to play overseas. Kanter is a high-upside player but his unusual route to the NBA raises lots of questions. He can't answer those questions without playing in a competitive environment, even if he has to settle for lesser competition. Kanter needs to play. It's in his best interest and it's in his employer's best interest.