Posted by Ben Golliver.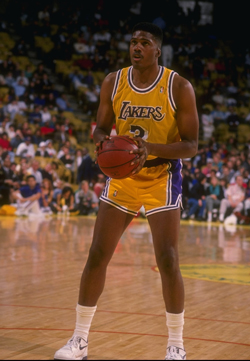 In the 20 years since Jay Vincent completed his NBA career -- which included stops with the Dallas
Mavericks
, Washington Bullets, Denver
Nuggets
, San Antonio
Spurs
, Philadelphia
76ers
and Los Angeles
Lakers
-- he has managed to run into an ocean's worth of hot water.
This time, though, he's being sent to jail for running a scam involving the same game that earned him more than $1 million as a professional.
In 2010,
Vincent pleaded guilty
to bilking unsuspecting victims out of millions of dollars in an online scam that involved a fake company to carry out home inspections.
Unfortunately,
StateNews.com reports
that Vincent is allegedly continuing fraudulent activity by -- get this -- charging people to try out for a fake basketball team and was jailed this week for his actions.
At the same time as the inspection company operated, according to court documents, Vincent owned Pro Basketball Co. Vincent now runs a similar business called USA ProBasketBall Co. Vincent said the company holds tryouts to find players, puts together traveling exhibition teams and finds sponsors for the teams.


Prosecutors believe Vincent placed ads this year in several newspapers - including two with the Dayton Daily News and one with a paper in Monroe - promoting the tryouts.

Vincent charged participants a "tryout" fee that at one point was $85. According to court documents, one man was notified he made the team after a tryout in Monroe and Vincent instructed the man to send $275 and to expect a contract. The man became suspicious and didn't pay, but others did, the documents say.
It seems like just yesterday I was writing about former NBA players and their financial failures after their careers were over. Oh, wait, it was just yesterday when
the state of Wisconsin started shaming
its top delinquent taxpayers on its website, a list that included former Milwaukee
Bucks
players Latrell Sprewell and Anthony Mason.
If there's a positive spin on this ugly story, it's that the NBA has worked hard to establish the Rookie Transition Program, an all-encompassing, mandatory educational session that provides tips to incoming NBA players on how to manage their money, conduct themselves professionally, and the like. Oh, shucks. Never mind. The NBA has
postponed the Rookie Transition Program
to an undetermined date because of the league's ongoing lockout.
Well, then, there is no positive spin here. Just an ugly story.