Posted by Ben Golliver.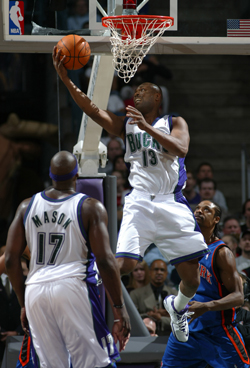 This is the type of Power Rankings list you don't want to be on.
Two former members of the Milwaukee
Bucks
-- guard Latrell Sprewell and forward Anthony Mason -- are listed on the state of Wisconsin's Department of Revenue website's list of
top 100 delinquent taxpayers
.
Sprewell leads the entire state in unpaid taxes -- in the amount of $3,533,426.49 -- while Mason checks in at the No. 3 spot, owing $2.070,061.26.
Sprewell played for the Bucks in the 2003-2004 and 2004-2005 seasons but is also a native of Wisconsin. Mason, better known as a member of the New York
Knicks
, played for the Bucks in 2001-2002 and 2002-2003.
TheBigLead.com notes
that these tax debts, while enormous, represent just a fraction of each player's career earnings.
According to one site, Mason was paid about $16 million with the Bucks over four years, and his career NBA salary totaled about $45 million. Sprewell made in the ballpark of $97 million on the basketball court in his career.
Clearly, the point of this list is to shame its members into stepping up and paying what they owe. Applying a little public pressure is a no-lose and no-cost tactic for the state. But is it actually effective? Who knows.
But imagine if every state with an NBA franchise followed suit. How many former NBA players would find their way on to a similar list? 50? 100? 200?
Wisconsin, one would imagine, is one of the cheaper places for an NBA player to work and live. In states like New York and California, where the cost of living -- and the cost of living large -- is significantly greater, I'd expect to see even more former NBA players on this type of list.
Whether Wisconsin ever receives its money or not, Sprewell and Mason become two more cautionary tales for current NBA players at a time when financial management is at center stage during the ongoing lockout. The NBPA should send out a link to the Top 100 list to its members with the subject line: "What not to do."