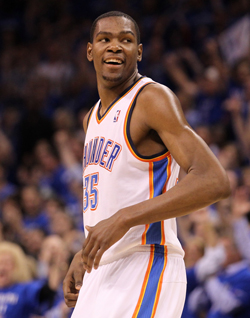 Posted by Royce Young
The whole players going overseas during the lockout thing is pretty insignificant news unless a player actually, you know, signs. A guy saying, "I'll keep my overseas options open" isn't news at all, but if the player is a star, it kind of becomes important.
So with
Kevin Durant
telling Sports Illustrated that
he's 50-50 in terms of playing abroad during the lockout
, we may have reached the all-time low with this theme.
"I love playing in the States," Durant said. "But I want to play somewhere. If you have an opportunity to [play overseas], it's something you have to think about."
Durant's agent, Aaron Goodwin, recently said that he was exploring overseas options for his client, but nothing was certain. Durant has a pretty good international following having played in the Philippines in two exhibition games last week along with wrapping up a recent two-week trip to China. He's not quite the international superstar like
Kobe Bryant
or
LeBron James
, but Durant did just complete his fourth season and is only 22.
He's a basketballholic though and the thought of not being able to play would absolutely devastate him. He's optimistic a deal will get done, but you can be sure that Durant is going to find some kind of competitive basketball if the lockout drags on.
Durant, who is the
Thunder
's player representative, hasn't been very involved in the negotiations because of other obligations, but told SI that he wants to be in the mix more going forward.
"I just want to make sure I'm in the loop with everything," he said. "I went to one meeting during All-Star weekend and we were so far apart I knew it was going to take awhile. The owners don't want to give in on the things that we want. As players, we have to stay together. But I really want to get [a deal] done for the fans, the people who enjoy watching the game."
And I'm sure he wants to get a deal done so he can keep playing with his good friends in Oklahoma City and not in some unfamiliar city in Europe. He might be 50-50 right now, but you can be sure that if he gets his way, that would be more like a zero percent chance because it wasn't necessary.