Posted by Ben Golliver.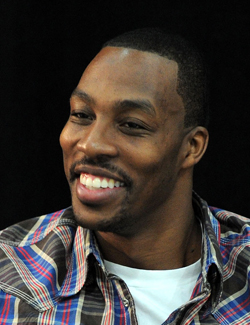 Orlando
Magic
All-Star center
Dwight Howard
has done his best to keep his options open as he slowly approaches free agency.
All of his options, apparently, except for one.
ESPN.com reports
that Howard, speaking at a comic convention, has ruled out one NBA team as a possible destination: the 2011 Eastern Conference Champion Miami
Heat
.
What about the Lakers? "That's everybody's question," he told the "Kick" audience. "I am wearing purple … but that's Rock's outfit."


The Heat? "Never."

Stay with the Magic or leave for free agency? "At this point, I don't know what I'm going to do. I'm just enjoying life and taking advantage of being young and being able to travel and do the things that I've always wanted to do."
Howard has added plenty of fuel to the battle for NBA supremacy in Florida since
LeBron James
,
Dwyane Wade
and
Chris Bosh
decided to team up in South Beach. He's mocked James' chalk toss, made fun of his hairline and criticized The Decision, to name three obvious examples.
But this blunt dismissal of the Heat is no idle trash talk or laughing matter. Howard seems to be expressing a philosophical difference between himself and his rivals to the south.
It's an interesting stance for him to take, considering that it's his expressed desire to win a title and a trade to the Heat for one of their Big 3 would represent a very, very good way for Howard to reach a ring.
But Howard wants to be the alpha dog. He craves and seeks attention, clearly isn't interested in following someone else's path and, perhaps more than anything, is smart enough to pander to Magic fans. Howard going to the hated Heat is their worst nightmare and he's still got to play out his current contract, after all.