Posted by Ben Golliver.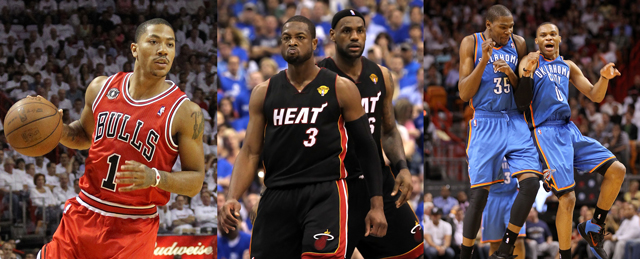 Managing an NBA roster is an intricate task.
So many factors must be considered. First, and foremost, you must acquire top-level talent, handing out the big dollars to players that have earned it. You must avoid the risks that go with overpaying average talent, questionable characters and players who are past their prime or dealing with injuries. You must also create a balance based on positions and skillsets so as to avoid redundancy. Of course, there's the critical issue of timing, too. To create sustained success and a potential championship window, it helps to have your best players aging at the same time so that they will be locked into contracts for a similar duration.
With so many complication factors and with the fate of a franchise tied so closely to the health and contract statuses of its best players, it's no wonder we see such a wide range of quality when we assess the rosters around the league. But who, really, is in the best shape right now? And, conversely, whose roster is the worst?
To answer that question, try this hypothetical: If you were a new NBA owner in an undisclosed location granted the ability to poach an entire roster from a current team -- taking with you all of the players and their contracts, but not the coaching and management staffs -- who would you take? What would your list look like?
Here's one unscientific crack at that hypothetical, a ranking of the NBA's thirty rosters from worst to first. Included with each team are its key assets (stars, emerging stars on rookie deals, good players on reasonable contracts), its key anchors (bad contracts, ill-fitting pieces, aging stars who are owed more future money than they will be worth) and questions (free agency decisions, problems with roster construction). Remember, this ranking is for
right now
, not last season or next season, although the future -- both long-term and short-term -- obviously plays a factor in determining the desireability of a roster.
30. Detroit Pistons

Assets: Greg Monroe, Austin Daye, Brandon Knight
Anchors: Richard Hamilton, Ben Gordon, Charlie Villanueva
Questions: Talent, heart, professionalism, futures of Rodney Stuckey, Tayshaun Prince and Tracy McGrady
Analysis: Detroit's roster sports the toxic combination of multiple, long-term, big-dollar contracts to average or below average players plus a dearth of bankable young talent. Monroe and Knight are the two brightest spots on the roster but they're both still a long way from making rival GMs salivate jealously. Inheriting this bunch would require a lengthy, multi-year rebuilding plan.
29. Orlando Magic

Assets: Dwight Howard, Jameer Nelson
Anchors: Gilbert Arenas, Hedo Turkoglu
Questions: Future of Jason Richardson, salary cap flexibility, will Howard stay?
Analysis: If Howard, a 2011 MVP candidate, was locked down to a long-term extension, this roster would be in the top half of the NBA. As it stands, though, there is significant risk in Howard bolting via trade or a pennies on the dollar forced trade, leaving loads of bad contracts, aging players and a giant hole in the middle in his wake. You would have to be a true gambler to take on that proposition.
28. Milwaukee Bucks
Assets: Andrew Bogut, Brandon Jennings
Anchors: Stephen Jackson, Drew Gooden, Beno Udrih
Questions: Chemistry, Ersan Ilyasova's status
Analysis: The team's best players have both dealt with injuries recently and neither has proven the ability to be a game-changing top-end talent yet. Combine that with a trio of bad contracts to veterans and rumors of locker room discord and you struggle to find a bright side to this group, other than Jennings' possible -- but not totally likely -- emergence as a franchise point guard.

27. New Jersey Nets

Assets: Deron Williams, Brook Lopez, salary cap flexibility
Anchors: Travis Outlaw, Johan Petro, Jordan Farmar
Questions: Talent, future of Kris Humphries, will Williams stay?
Analysis: Much like the Magic with Howard, the Nets have tied their fortunes to Williams, who seems particularly itchy to play for a winner. If there's a consolation, it's that New Jersey doesn't have a contract like Arenas' or Turkoglu's on the books, but they did overpay for a bunch of marginal players last summer, and Outlaw's deal looks worse by the day. Lopez and the team's ability to add talent during the upcoming free agency period provides a glimmer of hope that Williams might decide to stay in town but there's still significant risk .
26. Toronto Raptors
Assets: Ed Davis, Jonas Valanciunas, DeMar DeRozan, Jerryd Bayless, Leandro Barbosa's expiring contract
Anchors: Jose Calderon, Andrea Bargnani, Linas Kleiza, Amir Johnson
Questions: Defense, experience, chemistry

Analysis: The Raptors have a quartet of potential guys but the shine is taken off by the $29 million that will be paid to Calderon, Bargnani, Kleiza and Johnson next season plus the future salary owed to them as well. Davis and Valanciunas are the two most intriguing parts but neither is a sure-fire star. The Raptors have been treading water for awhile and there's no real reason to believe that the cycle will cease, although the 2012 NBA Draft class provides hope.
25. Charlotte Bobcats
Assets: Kemba Walker, Bismack Biyombo, D.J. Augustin, Boris Diaw's expiring contract
Anchors: Corey Maggette, Tyrus Thomas, DeSagana Diop
Questions: Talent, experience, size, depth
Analysis: New GM Rich Cho has begun the rebuild but there's still plenty of work to be done. The young pieces all come with question marks and there's the very real possibility that not a single player on this roster will ever become a star. That's not always a problem, but in this case the team isn't very deep and has a large contract it needs to shed in Maggette. Give it a year or two and Charlotte will be a cleaner slate.

24. New Orleans Hornets

Assets: Chris Paul
Anchors: Emeka Okafor, Trevor Ariza
Questions: Futures of David West and Carl Landry
Analysis: The Hornets roster has way, way more questions than answers because of the contract cycles that see many of its rotation players becoming free agents this summer. While the risk of Paul fleeing for a contender due to a lack of talent is ever-present, the more immediate concern is re-signing an injured West, which will cost an arm and a leg but still not get this team any closer to a title. Okafor and Ariza are solid pieces but their contract figures work against the roster's overall flexibility. This group is fairly stuck and that's not ideal if you're given a choice in the matter.
23. Phoenix Suns
Assets: Steve Nash, Marcin Gortat, Robin Lopez, Markieff Morris
Anchors: Vince Carter, Channing Frye, Josh Childress, Hakim Warrick
Questions: Positional balance, direction, future of Aaron Brooks
Analysis: Nash provides the thrills and makes everyone better, but for how much longer? The Suns probably don't get enough credit for the intriguing pieces in their frontcourt but that's because there's a lot of redundancy and not enough physicality. Once Vince Carter is off the books officially, the Suns will have some added flexibility, but spending like a drunken sailor last summer wasn't the best plan.

22. Denver Nuggets
Assets: Ty Lawson, Danilo Gallinari, Timofey Mozgov, salary cap flexibility
Anchors: Al Harrington, Chris Andersen
Questions: Depth, Futures of Nene Hilario, Kenyon Martin, Wilson Chandler, Arron Afflalo and J.R. Smith
Analysis: The Nuggets with Nene are a top 15 roster but the thought of him bolting in free agency casts a cloud over the other pieces. This roster seems damned if it do, damned if it don't with regard to J.R. Smith and the core pieces going forward lack a clear star presence. Harrington and Andersen provide a one-two punch of bad contracts for aging, marginal players, meaning this roster still needs some trimming as it continues through the rebuild.
21. Washington Wizards
Assets: John Wall, JaVale McGee, Jan Vesely, Chris Singleton
Anchors: Rashard Lewis, Andray Blatche
Questions: Depth, defense, talent, future of Nick Young

Analysis: Wall looked like a surefire All-Star in the making as a rookie and the Wizards took a major step to overhaul their roster by shipping out Arenas. Lewis' contract is a sinkhole and so is Blatche's personality, meaning patience is still the order of the day. McGee has underrated potential as a future dominant big man but he will need to continue to develop. The rest of the roster is essentially a scrap heap of raw parts.
20. Sacramento Kings
Assets: Tyreke Evans, DeMarcus Cousins, Jimmer Fredette, salary cap flexibility
Anchors: John Salmons, Francisco Garcia
Questions: Chemistry, depth, defense, futures of Samuel Dalembert and Marcus Thornton
Analysis: The Kings have two potential breakout stars and loads of cap space so you would expect them to be higher on this list. What's holding them back? Evans is dealing with questions about his position and health, Cousins is dealing with questions about his maturity and the rest of the roster has too many positional holes to fill in the short-term. Of the bottom 10 rosters on this list, this one might be the best to take a flyer on but there are certainly much safer bets.
19. Cleveland Cavaliers
Assets: Kyrie Irving, Tristan Thompson, Anderson Varejao, Antawn Jamison's expiring contract
Anchors: Baron Davis, Daniel Gibson, Ramon Sessions
Questions: Talent, positional balance
Analysis: The Cavaliers had an excellent 2011 NBA Draft and are much closer to righting the ship than everyone realizes. A future franchise point guard, a talented young big and a proven elite energy/hustle/defense guy is a solid core that's a few years away from potentially being special. Clearing the decks for Irving by moving Davis, Gibson and/or Sessions is the next order of the day. Davis' contract is by far the worst; it will be difficult, but not impossible, to move.
18. Minnesota Timberwolves
Assets: Kevin Love, Derrick Williams, Ricky Rubio
Anchors: Darko Milicic, Nikola Pekovic, Michael Beasley, Luke Ridnour
Questions: Positional balance, experience, depth
Analysis: It took an eternity, but the Timberwolves have finally assembled three quality NBA players. Everything besides the Love/Williams/Rubio trio is completely replaceable and entirely forgettable but the good news is that none come with totally absurd contracts. For an owner that isn't demanding a win now proposition and is simply looking for some thrills this group could deliver that if armed with the right coach and a clear-thinking GM. The group is still years away but at least it's no longer decades away.
17. Boston Celtics
Assets: Rajon Rondo, Ray Allen, Kevin Garnett, Avery Bradley
Anchors: Paul Pierce
Questions: Age, size, depth, futures of Jeff Green and Glen Davis
Analysis: Boston is in better shape than many aging teams we've seen in recent years. While both Allen and Garnett have entered the final chapters of their careers, they don't possess extra-long salary commitments that would bog down the future. With that said, they will be extremely difficult to replace. Pierce is owed big money through 2013-2014 but that contract alone shouldn't be crippling. The far bigger concern is the dearth of young talent besides Rondo. Green is polarizing -- for good reason -- and Bradley is promising, but unknown. There might be a plan for the post-Big 3 era but it's not clear yet. It's also not clear who will man the middle going forward after Kendrick Perkins was shipped to Oklahoma City. That's a big problem that not even Rondo's wizardry can solve.
16. San Antonio Spurs

Assets: Tim Duncan, Manu Ginobili, Tony Parker, Tiago Splitter, DeJuan Blair, Kawhi Leonard
Anchors: Richard Jefferson
Questions: Age
Analysis: Like the Celtics, the Spurs are about to enter a new franchise era. They've hedged against losing Duncan to some degree and have a solid crop of younger talent, although there's not a star in the bunch. Parker was recently locked in to a fairly reasonable extension and will become the face -- and motor -- of the franchise, with Ginobili doing what he does best for the next few years. The 2011 playoffs felt like a slamming of the championship window, though. The best days are in the rearview.
15. Houston Rockets

Assets: Kyle Lowry, Kevin Martin, Luis Scola, Goran Dragic, Marcus Morris, Donatas Motiejunas
Anchors: Hasheem Thabeet, Terrence Williams
Questions: Talent, Jordan Hill
Analysis: This Rockets roster might be the single most difficult one to rank. On one hand, it lacks any truly terrible contracts, although paying Thabeet not to develop and Williams to be a knucklehead would be difficult to swallow. On the other, the talent assembled has so far proven to look better on paper than it does on the court. Martin is an efficient scorer, Lowry is an underrated floor leader and Scola is a Steady Eddie down low, but the playoffs always seem another year away. The assemblage of reasonably-priced role players makes for intriguing trade potentials. There is a lot of Play-Doh here, it just needs molding. A lot of molding.
14. Philadelphia 76ers

Assets: Andre Iguodala, Elton Brand, Jrue Holiday, Evan Turner, Nikola Vucevic, Andres Nocioni's expiring contract
Anchors: None
Questions: Chemistry, future of Thaddeus Young
Analysis: The mix of young players and veterans doesn't quite feel right but the lack of any behemoth contracts and quality young talent makes this a promising group, especially because the Sixers hold a 2012-2013 team option on Nocioni, their worst current contract from a value standpoint. Iguodala and Brand command the big salaries and are still productive but either or both could be moved if necessary. Assuming Young is retained, a core of Young/Holiday/Turner isn't great but it's not terrible, either, especially if younger parts were obtained in exchange for Iguodala or Brand. Turner is clearly the X-factor for this group's long-term potential, which could be a bit scary.
13.
Atlanta Hawks
Assets: Al Horford, Jeff Teague, Kirk Hinrich's expiring contract
Anchors: Joe Johnson, Josh Smith, Marvin Williams
Questions: Future of Jamal Crawford, flexibility, chemistry
Analysis: Johnson and Williams paralyzes this roster's flexibility but Horford is a solid saving grace. A skilled winner who influences games on both offense and defense, he's locked in long-term and has emerged as a beacon of reliability. Teague came on late in 2011 and showed a fair bit of promise, too. If Crawford walks there's no easy way to replace him and it's past time that Smith gets dealt, although he should bring a fair bit of talent in return.
12. Utah Jazz

Assets: Derrick Favors, Paul Millsap, Enes Kanter, Alec Burks, Gordon Hayward, Mehmet Okur's expiring contract
Anchors: Al Jefferson, Devin Harris
Questions: Experience, positional balance
Analysis: Quietly, the Jazz have taken major steps to assemble young pieces in the wake of the Deron Williams trade. Favors, Millsap, Kanter, Burks and Hayward all pencil in as rotation players for the long haul, and Favors, Kanter and Burks each has a chance to develop into something special. Jefferson's injury history and contract size are a major drag on the overall plan; shipping him out however possible to free up frontcourt minutes and touches makes a lot of sense. Harris, too, is not a fit, as he's shown he's not reliable and, frankly, good enough to carry a young, developing team towards its future.
11. Golden State Warriors

Assets: Stephen Curry, David Lee, Klay Thompson, Ekpe Udoh, Charlie Bell's expiring contract
Anchors: Monta Ellis, Andris Biedrins
Questions: Defense, cohesion, backcourt chemistry
Analysis: Placing this roster depends largely on how much you like the big-dollar deal given to Lee. A smart owner inheriting this roster would move Ellis and his large contract immediately for a solid veteran wing. Such a trade would serve the dual purpose of clearing the backcourt decks for Thompson and freeing up touches and shots for Lee. Biedrins isn't worth his salary figure but he's not a total waste, and could be trade bait in the future, if not now. Curry is the franchise centerpiece with All-Star potential, even if there are obvious areas for improvement in his game. A Curry/Lee/Thompson trio is worth getting fairly excited about as long as the correct auxiliary moves are made.
10. Indiana Pacers
Assets:
Roy Hibbert
,
George Hill
,
Darren Collison
,
Paul George
,
James Posey
's expiring contract, cap flexibility
Anchors: Danny Granger
Questions: Depth, experience
Analysis: The Pacers are not only headed in the right direction, they are poised to become major players in the Eastern Conference next year if they spend their chips smartly in free agency. Indiana has talented young players at virtually every position and its one big-dollar contract, Granger's, is both reasonable for his production and tradeable if need be. This group needs time to gel together and an infusion of elite talent. The flexibility and building blocks are in place for that to happen.
9. Portland Trail Blazers

Assets:
LaMarcus Aldridge
,
Gerald Wallace
,
Wesley Matthews
,
Nicolas Batum
,
Marcus Camby
's expiring contract
Anchors: Brandon Roy
Questions: Health, roster balance, future of Greg Oden
Analysis: If not for Aldridge's emergence as an All-Star caliber, ultra-durable big man, this roster would be doomed by its salary cap inflexibility and litany of recent injuries. Roy's mini-max contract extends through 2014-2015 and represents one of the worst values in the league given his current level of production following multiple knee surgeries and a big-dollar commitment to Oden could freeze up this roster even more. While the core pieces -- Aldridge, Wallace, Matthews and Batum -- aren't a perfect fit and there's a legitimate question as to whether Raymond Felton is the long-term solution at point guard, a solid talent base has been assembled. As is, there's enough talent to make this a perennial playoff team for the foreseeable future; anything past that hinges on the health and availability of Roy and Oden.
8. Dallas Mavericks
Assets: Dirk Nowitzki, Jason Terry, Jason Kidd, Rodrigue Beabois
Anchors: Brendan Haywood
Questions: Age, futures of Tyson Chandler, Caron Butler and J.J. Barea
Analysis: The Mavericks are loaded with questions -- aging key pieces, important players becoming free agents -- but Nowitzki's continued brilliance provides just about all the answers. While Terry and Kidd are closing in on the end of their careers, neither jeopardizes the team's future with unnecessarily large or expensive contracts. Re-signing Chandler is of the utmost important as he's the ideal center to extend Nowitzki's effectiveness over the duration of his career. Haywood's contract sticks out from the bunch as a giant mistake but the Mavericks are otherwise set up nicely to re-tool going forward.
7. Memphis Grizzlies
Assets: Rudy Gay, Tony Allen, Xavier Henry
Anchors: Zach Randolph, Mike Conley
Questions: Futures of Marc Gasol and Shane Battier
Analysis: Memphis' playoff run was no accident. This is a seriously talented group with no major holes in its starting lineup -- assuming Gasol is retained -- and no questions about age, at least not yet. The biggest concerns are whether Randolph will remain motivated and engaged throughout the duration of his extension and whether it was wise to fully invest in Conley as the point guard of the future. Both represent risks but neither risk seems overwhelming after watching the Grizzlies punch out the Spurs and push the Thunder to the limit. More good news: Memphis has affordable bench players, promising younger guys and a potential trade asset in O.J. Mayo. Bring back Gasol and this train is heading in the right direction.
6. Los Angeles Lakers

Assets: Kobe Bryant, Pau Gasol, Andrew Bynum, Lamar Odom
Anchors: Ron Artest, Steve Blake, Luke Walton
Questions: Age, athleticism, lack of cap flexibility
Analysis: The Lakers have the most talented foursome in the entire NBA, without question. No one can match the experience, versatility, length and size of Bryant, Gasol, Bynum and Odom. Taking that group by itself, this roster would rate No. 1. Unfortunately, this is the highest risk / highest reward roster in the entire league for financial reasons. All four stars get paid massive money, which wouldn't be so bad except there are three other bad contracts -- Artest, Blake and Walton -- that need to be paid on top of that. Past the contract numbers, both Bryant and Bynum come with injury histories and future risks. Taking on this roster would mean paying out the highest payroll in the league while still carrying the very real burden of being one injury away from ruin. It would also mean swallowing the fact that truly addressing positional weaknesses would mean breaking up the four core pieces. Having expensive talent is better than being talent deficient, but it does come with its own set of problems.
5. Los Angeles Clippers


Assets:
Blake Griffin
,
Eric Gordon
,
Al-Farouq Aminu
,
Eric Bledsoe
,
Chris Kaman
and
Randy Foye
's expiring contracts, salary cap flexibility
Anchors: Mo Williams
Questions: Youth, depth, future of DeAndre Jordan
Analysis: Surprised? Cut though the history of incompetence associated with the Clippers franchise and you'll see a dynamic inside/outside combination in Griffin and Gordon that complements each other perfectly. Both players have All-Star potential and are currently on rookie deals, meaning they are maximized assets in the here and now. The only somewhat questionable contract on the books is Mo Williams, but he fills a positional need and is certainly tradeable. Otherwise, there's young talent in Aminu and Bledsoe and flexibility in the form of cap space and expiring contracts. The Clippers offer two extremely exciting core pieces and a clear path to constructing a very bright future around them.
4. New York Knicks

Assets: Amar'e Stoudemire, Carmelo Anthony, Landry Fields, Chauncey Billups' expiring contract
Anchors: None
Questions: Depth, size, positional balance
Analysis: It took a long, long, long, long time, but the Knicks have reached a high-water mark in terms of roster desireability. Not only does this group boast a pair of All-Stars locked in long-term at the forward positions, the presence of multiple expiring contracts allows the flexibility needed to build around them. Are Stoudemire and Anthony an ideal pair? Probably not, at least not without an excellent point guard distributing the rock and keeping the egos in check. But even if we allow for the fact that the pairing isn't ideal, they will deliver winning seasons and playoff appearances for the duration of their contract. The rest of the pieces around them can be accumulated at whatever pace is most prudent. The roster has starpower by the boatloads and is one major move -- or two or three minor moves -- from serious title contention. Not bad at all.
3. Chicago Bulls

Assets: Derrick Rose, Joakim Noah, solid bench
Anchors: Carlos Boozer, Luol Deng
Questions: Two guard, who is the No. 2 scorer?
Analysis: This roster knocked on the doorstep of an NBA title in its first year together and all the important pieces are locked up for the foreseeable future. Rose, the NBA's best point guard, ensures that all of the pieces around him will reach their maximum potential while Noah is a stabilizing defensive force and emotional leader. The forward positions are filled ably by Boozer and Deng, although both are paid handsomely and are not necessarily elite players at their position, although Deng is an excellent defender. Moving out of Boozer's contract to explore other potential options at the four would be ideal but difficult to accomplish, so running things back with the current group, plus another backcourt scorer, is the most logical short-term remedy. A year or two down the road, once an extension for Rose kicks in, the flexibility will dry up. Even so, the big questions have all been answered and managing this roster now comes down to using exceptions to fill out the smaller niches.
2. Oklahoma City Thunder
Assets: Kevin Durant, Russell Westbrook, James Harden, Serge Ibaka
Anchors: None
Questions: Health, development of young bigs, cohesion between Durant and Westbrook
Analysis: From one to eight, there is no better roster in the entire NBA. This group is by far the most delicately, surgically constructed group. Really, there are so many riches that it's almost embarrassing. Two young All-Stars growing up together. Zero holes in the starting lineup. All of the important role player holes (backup point guard, scorer off the bench, third big man) are filled through at least the next two seasons. Not a single bad contract on the books, assuming center Kendrick Perkins is able to stay healthy. Eventually, the Thunder will have to pay big to retain this group but that's a problem for a different day. Right now, this roster is talented, balanced, deep, athletic and full of high-character players who are committed to winning. That's as good as it gets. (Almost.)
1. Miami Heat
Assets: LeBron James, Dwyane Wade, Chris Bosh, Udonis Haslem, Joel Anthony
Anchors: Mike Miller
Questions: Future of Mario Chalmers, health, salary balance
Analysis: The only way to top a roster as balanced as the Oklahoma City Thunder is to assemble three of the league's top 15 players -- including two of the top five players -- on the same roster and to make sure all three are in their prime. James, Wade and Bosh fit that bill and are potentially locked in together through 2015-2016, giving this group by far the largest championship window in the league. The only regrettable contract so far is the one given to Miller, but it will look fine if he bounces back from a series of injuries suffered last season. There are questions at the point guard position and the center position but the combined talent of the Big 3 is enough to cover up just about anything. Salary cap exceptions and veteran minimum contracts will need to be used wisely to build around the core, which also includes reliable big men in Haslem and Anthony. Retaining Chalmers at a reasonable price, if at all possible, would provide an added element of stability but it wouldn't be a franchise-altering move one way or another.

The Heat combine the top end talent of the Lakers or Knicks with the flexibility that comes with the right mix of youth and experience sported by the Thunder and Bulls. Thanks to the 2011 campaign -- their first year together -- which ended in the NBA Finals, they've also proven that their formula -- which forsakes depth for talent -- has championship potential. You might not like the personalities of the players involved. But, if given the choice of all thirty rosters, would you really choose anyone besides the Heat?