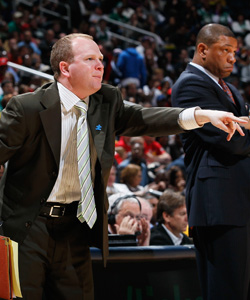 By Matt Moore
Update 5:35 p.m.:
The
Detroit News reports
that it is a "done deal" and Frank will accept to become the next head coach of the Detroit
Pistons
.
Yahoo! Sports reports
that the Detroit Pistons have decided on Lawrence Frank as their next head coach, and a formal offer is expected within the next 24 hours.
Frank most recently worked as the defensive assistant replacement for Tom Thibodeau in Boston, after several years as head coach of the New Jersey
Nets
. Frank has interviewed for nearly a half-dozen head coaching positions over the past two years, is well thought of by both players and coaches, and brings a defensive mindset all organizations value.
The Pistons need a coach who comes in with built-in respect and having had success as a players' coach. Frank definitely fits that description, and despite the sometimes unhappy locker room in New Jersey at the end of the
Jason Kidd
-Vince Carter eara, Frank also continuously pulled more from the Nets than people expected, right up until the wheels came flying off in 2009. With Detroit, Frank's first order of business will be to... well, assemble a staff and then redecorate his office or something, considering he can't do anything until the lockout's lifted. Once that's over, Frank will need to work to figure out which of the veterans are salvageable from a chemistry aspect and which of them need to go immediately. The Pistons need a youth movement, but more than that, they don't need any more hijinx from the veterans like last year. The players got what they wanted, Kuester's gone.
Now the question will be whether Frank's tough, acerbic style manages to get a hold on the situation in Detroit without a full-scale clean sweep.