Posted by Ben Golliver.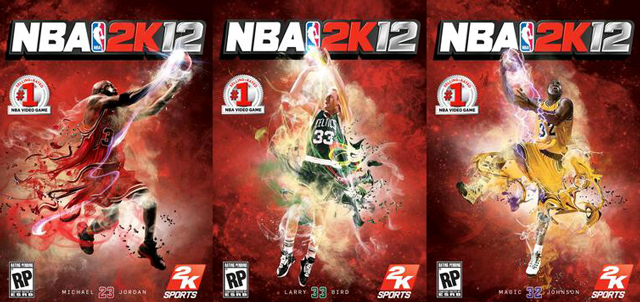 NBA legend Michael Jordan graced the cover of NBA 2K11 last year and, by all accounts, that decision was a smash success, as the game reportedly sold more than five million copies internationally.
As a follow-up, 2K Sports will be putting the Chicago
Bulls
guard on the cover of this year's edition, NBA2K12, along with two other extremely recognizable faces: Boston
Celtics
forward Larry Bird and Los Angeles
Lakers
guard
Magic
Johnson. That's right: triple the pleasure, triple the fun.
USAToday.com has more
.
Each athlete will be featured on their own separate cover when the game launches October 4.

"Jordan was such a success for us, and even if we wanted to do something different, the fans would never let us do it," says 2K vice president of marketing Jason Argent of His Airness' involvement with NBA 2K last year. "The feedback has been so positive."

Argent says 2K is "working on a potential solution" for consumers who buy a copy of NBA 2K12 with one cover but want to collect the other two versions.
CNN.com reports
that the triple cover concept could be a first for a sports video game.
Argent said the three covers for the Xbox 360 and PlayStation 3 versions will be shipped in equal numbers to each retail location in the U.S. He said all other platform versions and non-U.S. locations will only get the Jordan cover.

"The idea was to keep doing things bigger and better and continue to shake things up."

Argent said he thought the multicover approach was a first in the sports video game genre and extends the strong legacy established by "NBA 2K11." Last year's game sold more than 5 million units worldwide and won 14 Sports Game of the Year honors.
Each of the covers -- pictured above -- features an action shot of the Hall of Famer performing a signature move. Jordan is shown driving to the rim; Bird is pictured shooting a pull-up jumper; Johnson is swinging through with a baby hook shot. Each player's name and jersey number appears at the bottom.
An interesting question: How much was the decision to use the trio influenced by the fact that the NBA is currently in a lockout that could easily extend well past the game's launch date? Was it safer to pick NBA legends to avoid a controversy or is this simply a testament to Jordan's massive, enduring popularity?
Original pictures via
Darren Rovell on Lockerz.com
.