Posted by Ben Golliver.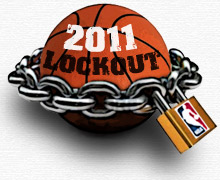 It's about time.
Yahoo! Sports reports
that the NBA has levied fines to two teams for violating the league's gag order, which states that team executives are not to have any contact with, or make public reference to, any current NBA players without pre-approval from the league office.
The NBA's fined two undisclosed teams for speaking on players in media during lockout, league source says. Kahn's a good bet as one of them.
Minnesota
Timberwolves
president David Kahn was indeed the most obvious violator of the league's gag order.
Last week, Kahn called a press conference
to announce the firing of coach Kurt Rambis. During the question-and-answer portion of the press conference, Kahn specifically referenced center
Brad Miller
and point guard
Ricky Rubio
by name, and his comments were broadcast on a live streaming video feed on NBA.com/Timberwolves.
Another possible recipient of a fine is Dallas
Mavericks
coach Rick Carlisle, who
conducted a radio interview
in Portland, Oregon, and made reference to multiple members of the
Trail Blazers
before cutting the interview short, apparently by someone reminding him of the gag order.
Many observers have decried the NBA's gag order as a petty, ridiculous policy. It probably is that.
As noted last week
, though, failing to enforce the policy would be worse for the league and its owners than the policy itself.
Until someone gets fined, and fined big, violations of the gag order will continue ad nauseum. Each time a coach or team executive accidentally steps out of line, the NBA looks less and less in control and united.

In the public's eye, they start to look like they're full of it. Why should the Average Joe believe the NBA is losing millions of dollars a year if the league won't follow through on its promise to fine people? Say what you mean and mean what you say. Hammer the offenders or offer a really, really good explanation for why you didn't. Otherwise, the impression is that you're tough-talking bullies who don't need to be taken seriously.
In the past, the NBA has reportedly threatened teams with a $1 million fine for violating the gag order, however the size of the fine in these cases is not yet known.