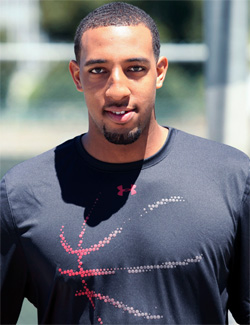 By Matt Moore
2011 has definitely been a huge step forward for Under Armour as a basketball brand. Coming into the draft, Under Armour had only
Brandon Jennings
and
Greivis Vasquez
in their stable. They added
Kemba Walker
soon after the draft for a huge addition, the first major "star" coming into the league (without having played a game, of course). Walker's a named name. Now they've added a new one as the brand announced today that they have added the No.2 overall pick in the draft,
Derrick Williams
, to its stable.
From an Under Armour press release:
"Derrick had a terrific college career and emerged as an absolute force on the sport's biggest stage," said Matt Mirchin, Senior Vice President of Sports Marketing, Under Armour. "We love Derrick's passion and hunger to play better every time he steps on the court. He's a great representation for the Under Armour brand and a terrific example to all young basketball players who are dedicated to becoming game-changers."

After winning the Pac-10 Freshman of the Year award in 2010, Williams raised his game to the next level in 2011, receiving finalist honors for the John R. Wooden Award and a second-team All-American selection. He exceled in the 2011 NCAA Tournament, helping the Arizona Wildcats reach the Elite 8 with a 32-point and 13-rebound performance in the regional finals.

"It's exciting to join a young brand that brings such a strong, new voice and look to the game," said Williams. "Under Armour is a great fit for me because they are just as passionate as I am about working hard and striving to be the best."
Yes, exciting stuff, but still, it's a presser. It's an interesting development for Under Armour,
which has experienced in full-effect
the domination of Nike in the market. Interestingly,
as Rufus on Fire notes
, Walker plays for Michael Jordan, the face of Nike Basketball. Now Derrick Williams becomes the highest drafted player Under Armour has signed. It's unlikely anything will touch Nike for the next, oh, several decades, but Under Armour's approach is pretty solid. Go after established names coming out of college, instead of high-upside guys. Those are players that are more marketable off the bat.
Williams' attitude alone is worth investing in. Now we'll have to see if they can transform that... whatever word you like better than swagger... into a platform that gets traction.
(Photo via Under Armour PR, HT:
IamaGM.com
)