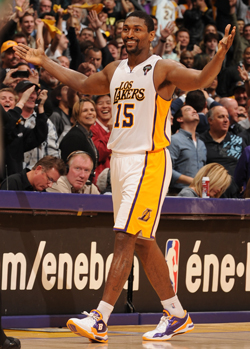 By Matt Moore


Ron Artest
recently started doing comedy shows. Because he's Ron Artest. And after his first few shows were a hit (
see a full review of one here
), he
recently told
Sports Illustrated
he's got plans for more shows, plus his own sitcom on BET and to ball overseas (
despite what his agent is saying
). So he's pretty busy. But the real gem of the article was Artest discussing, in classic Artest fashion, how he gets his jokes.
SI.com: So what's your comedy process? You sit down and write your material, or go off the cuff or what?

Artest: I get most of my jokes in the bathroom. I go to the bathroom and come up with some silly stuff, some good stuff, and then I go get my pen and pad and my recorder, just to see how I'm going to do it. I'm not doing the whole set, but I'm trying to figure out which joke I'm going to say and how I'm going to say it. So I practice it, and then I go out there and do it.
via
Ron Artest discusses comedy, movies, streetball, playing in UK - Sam Amick - SI.com
.
Of course.
At this point, it's difficult to see where the real, confusing, silly, baffling Artest ends and the manufactured, "give the people what they want" Artest begins. Is he really as wacky as he puts on? Is this the same guy who told the story about a friend dying from getting stabbed with a chair leg after a game and who wakes up his personal assistant to track down "snake eggs" in his backyard? Or is this the guy who won the Walter J. Kennedy award for citizenship, shaved Laker things into his head, and goes on
The George Lopez Show
? The answer is it's all the same. Artest's life is a performance and his performance is his life.
But it's good to know that the source of all his stage material is the john.
The preceding post has been brought to you by the 2011 NBA lockout.