Posted by Royce Young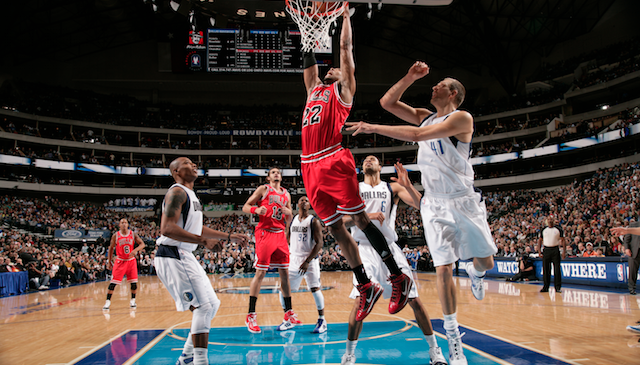 With everything regarding "next season" in the NBA, you've got to put the disclaimer on it that the lockout could very well wipe out all of these games. So with the 2011-12 schedule being released, I suppose it's realistic that this might just evolve into the 2012-13 schedule if things go bad.
But if you're an optimist in these negotiations, you've got 2011-12's lineup. You can start planning your evenings around big games, TNT double-headers and of course, the NBA's showcase games which come on opening night, Christmas (only three games!) and Martin Luther King Jr. Day. Let's take a look at those.
OPENING NIGHT
Chicago at Dallas (8:00 ET, TNT)
The champs will be handed their rings against the MVP and the
Bulls
to kick off the 2011-12 season. Honestly, the Mavs' ring ceremony may be better entertainment than the game. Mark Cuban has hinted at doing something bigger than just rings, so we'll see what he has in store, if anything. It'll be an emotional night in Dallas as the Mavs raise their first championship banner into the rafters as Dirk, Cuban and
Jason Kidd
all soak it in and get handed a ring.

Houston at Utah (9:00 ET)
Not a marquee game and it's really just kind of filler, but it'll be our first look at the remade
Jazz
with
Enes Kanter
and
Alec Burks
against the
Rockets
without Yao. Not necessarily a game full of stars, but it's two teams looking to get off to a good start on the path to a playoff push.
Oklahoma City at Los Angeles Lakers (10:30 ET, TNT)
The young
Thunder
travel to L.A. to take on the veteran Lakers to finish up opening night. It's
Kendrick Perkins
versus
Pau Gasol
and
Andrew Bynum
,
Kevin Durant
against
Kobe Bryant
and
Russell Westbrook
against whoever the Lakers try and stick on him. The Thunder and Lakers always play entertaining games as evidenced by their opening round series in 2010. Maybe there's a chance that either Durant or Kobe will catch fire and push Michael Jordan's opening night record of 54 points. At least that could be in play with these two terrific scorers facing off.

CHRISTMAS DAY
Boston at New York (12 ET, ESPN)
It's not Christmas Day basketball without the
Knicks
. Actually, I don't know if that's totally true, but it's somewhat of a tradition to kick things off after present opening wraps up with a day game at Madison Square Garden. This one features a rematch of the opening round of the playoffs last season with the Knicks hosting the
Celtics
. The Knicks have a bunch of star power and should be improved from last season. The Celtics are the Celtics and will be good. There's a chance that this game could reasonably feature two of the top three or four teams in the East. Which of course would make Christmas afternoon at MSG that much more fun.

Miami at Dallas (2:30 ET, ABC)
Feels like these two teams have a history or something. Did they play recently? The league loves to come back with a Finals rematch on Christmas and not only is this going to be a good game featuring two good teams, but these organizations really don't care a lot for each other. It's in Dallas which is an edge, but it'll be the first time LeBron steps on the floor with Dirk after the wrenching defeat in Miami in six games.
You can be sure that both teams will approach this game almost as if it were more important than just a late-December regular season game. It's bigger than that. Maybe just in terms of pride, but for two teams that aren't keen on each other that just finished up facing off for the title, Dallas against Miami on Christmas could be one of the NBA's premier games this season.
Chicago at Los Angeles Lakers (5:00 ET, ABC)
The reigning MVP taking on Kobe Bryant and the Lakers in what'll certainly be a majorly hyped showdown. Both teams will be at or near the top of their respective conference and both teams might be looking at the other as a potential Finals opponent. The Lakers have had a history of big letdowns on Christmas, but Kobe said emphatically last season that the Lakers need to get up more for those games. Well, here's another chance, this time against the suffocating Bulls and their MVP point guard.
MARTIN LUTHER KING DAY
Chicago at Memphis (1:00 ET, ESPN)
Completely fitting for the game to be in Memphis. Honestly, I think it should become league traditional that the showcase game in the afternoon happens there. But not only will it be a special day in Memphis, it'll have two pretty darn good teams. The surging
Grizzlies
will host the Bulls in a game featuring two terrific front courts and a couple of scrappy defensive teams.
Oklahoma City at Boston (8:00 ET, TNT)
Two contenders, yes, but the hook to this one honestly might be that it's Kendrick Perkins' return to Boston. He was adored by fans, coaches, player and the front office, so no doubt it'll be emotional. Then once that's out of the way, we'll have a game with two really good, fun teams.

Dallas at Los Angeles Lakers (10:30 ET, TNT)
One of the West's most underrated rivalry games closes it all out. Late last season, the Mavs and Lakers scuffled a couple of times which led people to assume the
Mavericks
were soft as the Lakers pounded them in an important game. Didn't matter obviously in the end, but no doubt the Mavs haven't forgotten.