New Orleans Hornets point guard Chris Paul shoots at a gun range during his Las Vegas bachelor party. Posted by Ben Golliver.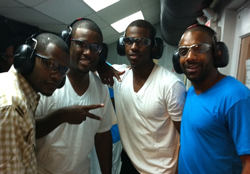 They shootin'! Aw, made you look.
New Orleans Hornets point guard Chris Paul has been through a lot this season. His team was sold to the NBA and there were rumors it would be contracted, his teammate
David West
endured a season-ending knee injury, and he was bounced in the first round of the playoffs by the Los Angeles
Lakers
after putting on a heck of a one-man show.
Now that it's the offseason and there's no free agency period to trouble him with rumors about his future, Paul is free to unwind. And he's reportedly doing so in style, heading to Las Vegas to celebrate his bachelor party.
TheBigLead.com reported on Monday
that Paul was joined by
LeBron James
,
Dwyane Wade
and
Carmelo Anthony
in Vegas and, later Monday, Paul
tweeted
that he was having lunch with the All-Star threesome.
To work up that appetite, Paul, his brother C.J. and others went to a gun range to shoot some high-powered weaponry. Indeed, Paul uploaded
this video to Twitvid
, which shows him lying down on his chest on a padded mat and unloading dozens of shells at a target. He then sent out the video, tweeting, "Check out my skills. Good times."
After he finished shooting, Paul turns to the camera with a big smile on his face and declares, "You don't want to mess with me. You don't want to mess with me."
Note: Once the video loads, be sure to hit the "rotate" button. Or, just turn you head 90 degrees to the left.
For the record, Paul shot 46.3% from the field last season.
TheYBF.com reported
in September that Paul was engaged to Jada Crawley.
Top picture via JayTrice on MobyPicture.com.