Posted by Royce Young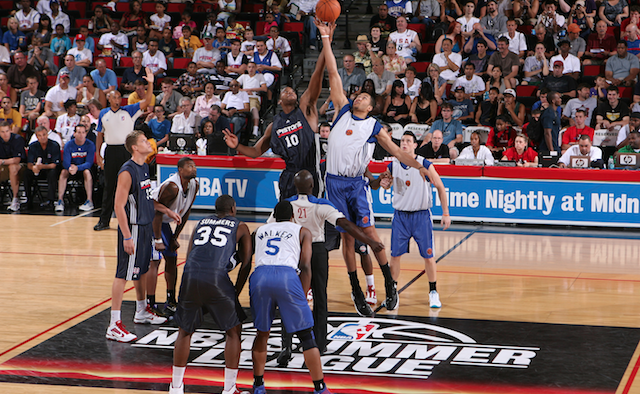 The NBA's annual Vegas Summer League would be wrapping up right about now. Young players would be finishing up a week of gambling, partying and hopefully, at least for their coach, getting better.
Summer League has always been sort of approached by most as nothing more than a perk of July, just something to sort of help bridge the gap. Nobody really pays attention to it except for the hardest of hardcore fans, general managers, scouts and coaches. And bloggers. Summer League basically is blogger paradise, because it's something to write the crap out of for a couple of weeks in mid-July.
Except this summer, because of the you-know-what, there is no Summer League. No rookies to overhype because of a good, random game against a bunch of D-Leaguers. No second-year fringe players to latch onto and get excited about because of a quality week. And no players to completely write off because of a 2-12, five-turnover game. For shame. For damn shame.
And while most just write off what happens in Vegas as unimportant, any time players take the court and compete, there's something of value there for the players, the organization and the coaches. Basketball is about development. It's about getting better. Summer League is a vehicle for new draft picks to get a feel of pro basketball and a feel of playing with a couple of teammates. It's a place for guys to prove themselves a bit. In reality, it's kind of important, even if it's generally ignored by the general basketballing public.
But I can guarantee you a good number of teams were mighty disappointed when Summer League fell through because of the lockout. There's progress to be made, and a week in Vegas is an excellent place to start, especially for rookies. Some teams and players are going to feel the sting of missing out on the opportunity. Here are the ones I see feeling it most.
Minnesota Timberwolves
No team would've benefited more than Minnesota's young roster. First, it would've been the first look at
Ricky Rubio
on American soil. He would've played against NBA talent and had a chance to run the show for his new team.
It also would've given all of us a chance to rush to snap judgments about his game and, therefore, his career, based on a couple of Summer League games. It would've been great.
But on top of some run for Rubio,
Derrick Williams
,
Wesley Johnson
and a few other youngsters could've put away a week or so of games. Every second those guys play together, the better they'll get. They need time to develop, and Summer League is a place for that. Instead, it's going to have to happen on some private court without any coaches. Not the ideal situation for young players to learn and improve.
Cleveland Cavaliers
Pretty much the same scenario for the Cavs as it is for the Wolves, or any young team with talent.
Kyrie Irving
could've used the extra time on the floor, but not just because he could get a feel for offense or learn the pace of the NBA game or anything. For Irving, it's more that he just needs to play, period.
He only played in 13 games for Duke last season and after returning from his foot injury, played a couple of games in the NCAA tournament. He has barely played any competitive basketball at all in the last year. For a 19-year-old, that's not a good thing. The more play you get, the farther you move ahead.
Not to mention the No. 4 overall pick,
Tristan Thompson
, getting some play, too. Obviously, that would be great, but to me, it's more about Irving. It's his franchise now, and the objective in Cleveland now is moving him along. Something small like Summer League is one of the first steps forward in doing that.
Sacramento Kings
The Kings' inclusion really is more of a selfish reason. Because with Summer League, you
know
that every game with
Jimmer Fredette
woudl be a total experience. Vegas is close to BYU, and Jimmer has quite the following in the area. But, really, it could be in Maine and The Jimmer would walk in like a rock star.
The Kings do need him and
Tyreke Evans
, though, to get some experience playing together. Who's running point? Is it Jimmer? Is Reke going to handle those duties too? Are they going to tag-team it like
Monta Ellis
and
Stephen Curry
? These are some of the questions you can sort of at least start to find answers for, if only they were actually playing.
Oklahoma City Thunder
Despite reaching the Western Conference Finals, the Thunder really do have a ton of room to grow. The roster is extremely young with some pieces that need developing. Two of the most important being
Cole Aldrich
and this year's pick,
Reggie Jackson
.
With Aldrich, he simply needs to play a little. He spent most of his rookie season in the D-League with the Tulsa 66ers, and while that's good for development, Summer League gives him a chance to be a focus in a competitive setting as well as a primer for what he needs to work on heading to fall camp. Aldrich is far from a lost cause, and the Thunder are willing to stay patient. But part of that being patient comes because you think a guy is going to improve. And to do that, he's got to play.
With Jackson, Summer League could've helped signal a little where he might fit in. Is he a point guard? Shooting guard? Combo guard? Is he a scorer the Thunder want to use off the bench next season? Is he someone that even will challenge for minutes? The Thunder clearly liked Jackson enough to promise him a spot in the first round, but without him working out for anyone before the draft, he's still largely an unknown for everybody.
Miami Heat
Yes, seriously, the Heat. No doubt that for the most part, the roster is set. LeBron, Wade and Bosh handle pretty much all of the heavy lifting, and veterans
Mike Miller
and
Udonis Haslem
pick up the remaining slack.
But the Heat need to develop young talent. Players like
Dexter Pittman
need an opportunity to grow a bit. Where the Heat lacked most last season was having cheap, young talent to infuse with LeBron, Wade and Bosh. Instead, Pat Riley went with trying to work in guys like
Mike Bibby
,
Juwan Howard
,
Eddie House
and whoever else was willing to take the veterans minimum to chase a title.
A week in Vegas for Miami's youngsters like Pittman and rookie
Norris Cole
could go a long way to restructuring the role players on the roster. And on top of that, it's a chance to maybe scout three or four other unsigned guys to take a look at later on. Miami needs some young talent, and the Vegas Summer League is one of the best places to look.
Washington Wizards
John Wall
is going to be a star. I don't have any doubt. But he's still raw and still has a whole lot to learn about running a team. I remember how much Summer League did for
Russell Westbrook
a couple of years ago as he was prepping for his second season. It helped Westbrook learn how to slow down a bit, learn when to look for a shot, when to look to set up and when to push. Wall would've been the best player in Vegas, much like Westbrook was always on another level when he was there. But it taught him how to play under control -- to a degree -- while also being able to run around anyone. That would've been a good lesson for Wall.
Then there's
Jan Vesely
, who is mostly a mystery as he prepares to maybe step in as Washington's new small forward. We know he can jump and dunk, but can he defend? Can he rotate over and help? Can he shoot? If Wall and Vesely are the offensive attack of the future for the Wizards, having them play together, if even for just a week, would be huge.
Utah Jazz
Even more than Kyrie Irving,
Enes Kanter
hasn't played competitive basketball in a long time. He was forced to sit out all of 2010-11 for Kentucky because of a NCAA violation, and while he's had some workouts and a little five-on-five action here and there, he hasn't been in a real game setting since he moved from Turkey to the United States. The Jazz liked him enough to take him fourth and maybe force a re-shuffling up front, so obviously they're invested in the young big man.
And on top of him, don't forget the Jazz had another lottery pick in wing
Alec Burks
, who could surprise a lot of people as an NBA-ready scorer. He was terrific at Colorado as he sort of came out of nowhere to climb into the lottery. A little burn for both him and Kanter could've gone a long way for the Jazz, who are committed to the youngsters in life after Deron.