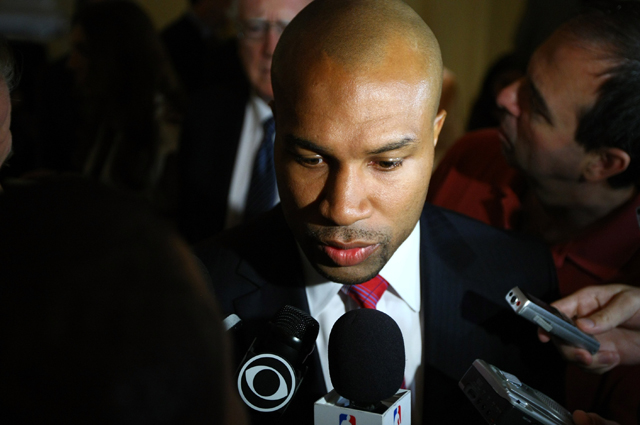 Posted by Matt Moore
Imagine you're the players of the NBA. You've known this was coming, you've hoped it could be avoided, you've even made a few compromises to try and avoid it. But here you are, locked out of the league you tried desperately for years to get into, staring at whatever the Istanbul version of Craigslist is. You know it's going to be a long fight, but it's one you're committed to winning (you even had T-Shirts made and everything!).
And while you understand that the people, the fans, the public have no real bearing on who ends up winning this thing, that neither side is going to look good in this lockout, every little bit helps. So how exactly are you going to get the public's support on your side of this ugly little spat with the powers that be?
Here's a five-step plan.
Step 1: Circle the wagons. And that means wrangling a few wild horses.
You want the public to sympathize with you? Playing up the human interest angle isn't going to work here. You make zillions of dollars playing basketball while most people work in an office with a coffee machine that makes sludge and a terrible boss who likes baseball or something. But you don't need to engender sympathy, you just need to engender respect. And that means staying out of trouble.
It's the offseason. Guys aren't even under the leashes of their respective teams during workouts or events. But if the players want the public to take them seriously as a group of professionals fighting to protect their earning potential and wage-earning, they need to represent themselves as such. And respected professionals aren't arrested. When that happens respected professionals become disrespected (often former) professionals. DUI, assault, even things like speeding in extremely fast cars, all of these things contribute to an image the NBPA needs to keep at bay. This goes for every member of the union, regardless of age, race, or background. It's one thing when a player's irresponsible actions hurt himself, but now it can damage the collective efforts of the union.
Whether it's applying pressure to the right people, making personal pleas, or just downright babysitting, the player's union needs to make sure its athletes come across as suit-wearing professionals who are being prevented from going out and doing their job. That's harmed if it looks like they're having the time of their life, blowing the money they supposedly need to protect and getting in trouble.
Step 2: Spin the Euro bottle.
Right now players escaping to Europe seems like a vacation. Fans feel like their favorite players (or
Zaza Pachulia
) are skipping out to go make money somewhere else while they're stuck without a team. The players need to first commit to who's going to go and who's not going to go. A decent combination of stars and role players should go, with players who have planned well enough to survive the lockout on their own staying home. Then the trick is to push this publicly as something they were forced to do. "Well, I need to play and I'm not allowed to here, so I went elsewhere." It should be made about staying in shape for their careers (for the NBA fans) and not about the money. In fact, players should pledge a certain amount of their income to charity, and a certain amount to a collective fund for the union.
The worst thing that can happen is this looking like a selfish avoidance of the problems here in the States. Every player is affected by the lockout, and every player should be working to bring it to an end. Pitching their European defection as an effort to do just that, to get the owners off their gulag-prison-guard-like stance, is the best way to go about it. Don't pretend your "family needs to eat" is the reason you're going. Make it about basketball.
Step 3: Level with the fans.
A certain amount of PR in ugly situations like this involves saying things and taking stances you know make you sound like a moron. But those are often things to keep you out of trouble, a defensive position. What the players need to do is capitalize on the fact that they were the ones locked out, not put on strike, and level with the fans about how this looks.
When I asked
Kevin Love
about the lockout earlier this week, he said that
fans "don't want to see billionaire owners and millionaire players bickering over money
." This was a golden quote that could be dangerous if Love distanced himself from the rest of the union. But he didn't. He's firmly behind the union's efforts, but recognizing that people aren't going to feel sorry for the players, no matter how upset they are with the league's approach.
Being honest with the fans and acknowledging that there's a certain amount of ridiculousness to this process considering the amount of money involved doesn't hurt the players' case. They're not asking for change. They're just asking for things to stay the same. That should remain firmly in their wheelhouse of approach.
Step 4: Educate as much as possible.
Your average person is going to be offended that players are doing anything but being grateful for the money they earn playing a game. Once again we return to the fact that so many people's jobs suck. It's offensive that someone who's life is awesome is saying his life isn't awesome enough.
So instead, focus on putting things in terms people can understand. "If your boss walked in one morning, even though your company has experienced record growth and critical success in the past year, and asked you to take a significant paycut, how would you react?" While spending time and resources on investing the public isn't going to win you anything with the players, it does remove something from the owners. The players aren't directly beholden to ticketholders and sponsors. The owners are. So the players need to spend some time to make the average season ticket holder understand that the players want to play, they aren't being allowed to.
No one needs to hear about BRI, or the difference in a hard cap. Just make it plain, that "billionaire owners made poor decisions and now say they want more money, and they want it from us, their workers, while they've fired their staffs until they get what they want." That's the reality of what's going on with the owners, and it paints them in about as bad a light as possible. If you really want to get in the trenches, release some information about how much some of these owners are actually worth, compared the amount of money they're squabbling with the players over.
But above all, follow Step 5.
Step 5. Be the better men.
This "negotiation" process quickly turned into one of prideful bickering and overdramatic gestures. The owners refuse to provide a counterproposal. The players release statements about how ridiculous the owners' proposal is. The owners bully up and take a hard line. The players show up in synchronized t-shirts. The owners let Stern do the talking.
Kevin Garnett
yells in a meeting.
This is not how business should be conducted.
This is not "Norma Rae." There's no moral high ground to be won. This is a business deal between two entities, both of which are doing exceptionally well in life. The players have every right to stand and fight for what they believe they deserve and protect the future earning potential of those in their profession. Anyone would do that, from plummers, to software designers, to middle management, to media members. No one wants to be sold up river or sell future people who will share their position up the river.
But behave with superior class. Don't get dragged into the mud. Peel back on the rhetoric. The public isn't sold that the players are greedy, they just haven't been sold on their requests being reasonable yet. By being the bigger men and taking the high road, they let the owners hang themselves by looking ridiculous and petulant, all the while the union is earning income through exhibition games and European contracts. The world's a smaller place, which means voices can carry more loudly. All the more reason to speak quietly, but firmly, and simply let the owners' red-faced bombastic approach peter out as the tide turns against them.
The union needs to be vigilant, reasonable, and clear. Do those things and their chances of putting the pressure back on the owners to crack will improve significantly.
Check back tomorrow for Part Two of our series and how the owners can crush the union's public support.