The NBA reportedly threatened Portland Trail Blazers Acting GM Chad Buchanan with a $1 million fine. Posted by Ben Golliver.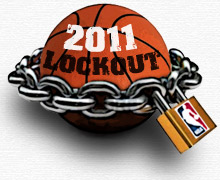 The second the NBA lockout went into effect on July 1, the league took great care to make its players disappear. The NBA ordered mammoth fines if team executives made public reference to current players and, in a particularly petty move, scrubbed NBA.com of references to current players.
As of yet, no fines have been publicly announced for violating the league's lockout-induced gag order on team executives.
However,
the Portland Tribune reports
that at least one has been threatened with a $1 million hit for a seemingly innocuous comment.
The league office has prohibited the teams' employees from commenting on players. Employees can talk about team issues, evidently, but not about players.


"There's a line in the sand that the NBA has drawn for everybody, but nobody knows exactly where the line is," one NBA team employee says. "Everybody is scared, not wanting to be the first to be hit with a fine."

Witness a recent interview with Trail Blazers acting General Manager Chad Buchanan. When it was observed that it's too bad there is no summer league scheduled, Buchanan replied, "Yeah."

Shortly thereafter, the league threatened Buchanan with a $1 million fine, according to one source.
Update
: Buchanan went a little further than simply saying "yeah,"
telling The Oregonian
in June that the cancellation of Summer League was "disappointing" and "not ideal."
Clearly, that's ridiculous. It's also a little scary that the NBA league office is monitoring public comments
that
closely. But, hey, it's their perogative and their policy.
That policy faces a much more interesting test case thanks to Minnesota
Timberwolves
president David Kahn.
On Tuesday, the Timberwolves called a press conference to
announce the firing
of head coach Kurt Rambis. During the question-and-answer portion of the press conference, Kahn made reference to at least two current Timberwolves: center
Brad Miller
and guard
Ricky Rubio
.
Speaking about the youth of his team, Kahn said it was possible that even with the addition of the 35-year-old Miller, who was acquired in a draft day trade with the Houston
Rockets
, the Timberwolves could still have the youngest average age in the NBA. Kahn also briefly discussed Rubio in response to a question about what the Spanish point guard would do during the lockout.
To make matters worse, Kahn's comments were streamed live on video on the team's official website,
NBA.com/Timberwolves
. In other words, the NBA league office can't help but be aware of them. (An
edited, condensed version of the press conference
archived on the site leaves out the references to both Miller and Rubio.)
The NBA has reached its first pivotal fork in the road during this lockout period when it comes to this policy. Commissioner David Stern can either look the other way on a blatant violation of his very clear, oft-repeated and referenced gag order policy or he can fine Kahn as his office has reportedly threatened to fine Buchanan. If the league chooses to fine Kahn, who was
fined $50,000 last year
for comments made about forward
Michael Beasley
, does it keep its word and go for the full million dollars? After posing in dictatorial fashion for the last two weeks, the NBA can't let the first obvious violator off easily, can it?