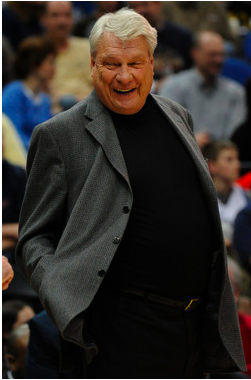 Posted by Royce Young
The NBA's all-time winningest coach might be making a return. But only because he's so intrigued by the Minnesota
Timberwolves
. I know.
What
?
According to ESPN.com
, Don Nelson, most recently of the
Warriors
and likely a beach in Hawaii, is open to a return to coaching specifically with the Wolves because of the roster.
I can tell you this:
I'm
intrigued at the thought of Don Nelson coaching the Timberwolves. The reckless, up-and-down offense coupled with zero defense, featuring
Ricky Rubio
,
Kevin Love
,
Wesley Johnson
and
Derrick Williams
? Um, yes please.
David Kahn has said repeatedly that he wants the Wolves to play an up tempo style game and the team would be built on an exciting brand of basketball. That never really happened because, for one,
Jonny Flynn
was the point guard and, two, because newly fired coach Kurt Rambis tried to install the triangle offense while also pleasing the front office with some running.
Obviously, it never worked.
Nelson, though, is 71 and his last few seasons with the Warriors didn't go well. He was stubborn with rotations, erratic with decisions and almost appeared apathetic on the bench as Golden State slogged through mediocrity, save for one shining playoff year.
Nelson's son, Donnie,
hinted back in October
that his dad might not be entirely done coaching. "Never say never,'' Donnie said. "I thought when he was the godfather (in Dallas after handing the coaching reins to Avery Johnson in March 2005), I thought that was the perfect existence. But he wanted to coach again. With him, you just never know.''
Would a Don Nelson era with the Wolves be successful? I doubt it. But would it be a lot of fun and so very, very David Kahn? Absolutely.