Oklahoma City Thunder guard Nate Robinson wants to play in the National Football League during the NBA lockout? Posted by Ben Golliver.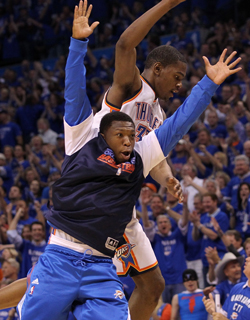 What better way to avoid a lockout in one professional sports league than taking on a lockout in another professional sports league?
That's apparently the plan for Oklahoma City's Nate Robinson. The diminuitive Thunder guard
told SlamOnline.com
that he would consider making a switch to the NFL if the NBA continues its lockout.
"I might go play football," Robinson told SLAM on the phone. "Do something that nobody's tried to do."

"If I can, I would love to play football a little bit," says Robinson, less than half-jokingly. "I've been doing a little bit of training."

"Why wouldn't you want to have an NBA player that can play football try out? That's a lot of publicity for your organization."
While both leagues are currently in a lockout, the NFL is said to have been making progress in recent weeks while the NBA owners and players are not even at the negotiating table.
Robinson has a football background. As a freshman, he
played cornerback
for the University of Washington, intercepting two passes and making 34 tackles. His father, Jacque Robinson, was a star running back for the Huskies and went on to play
one season in the NFL
.
Does Robinson have a chance, or is this idle chatter? An NBA/NFL hybrid career is unprecedented in the modern era, made impossible because of their concurrent schedules. That said, elite athletes in the NBA are likely to be elite athletes in the NFL, given the similar demand for quickness, strength and agility. One would think the outside positions, wide receiver and cornerback, along with special teams would be the easiest places for a basketball-to-football transition to occur. And, at 5-foot-9 and 180 pounds, Robinson is in the right ballpark to play corner and clearly has superior leaping ability, evidenced by his three NBA Slam Dunk crowns.
Still, the injury risk in making this type of transition is astronomically higher than playing basketball overseas. Re-learning a new, more physical game is a much more difficult proposition for a professional athlete than playing the same game you've always played in a different environment. Anyone giving Robinson -- who is just 27 years old and entering the final year of his contract -- good, sound advice would tell him to let the football dreams die hard.
Although it's far-fetched, this is a tantalizing possibility to think about. For a good time, check out this highlight reel of Robinson starring on the gridiron during his high school days at Rainier Beach,
uploaded to YouTube by user atlhawks3
.