Los Angeles Lakers guard Kobe Bryant wins a $1,000 bet from rapper Bow Wow. Posted by Ben Golliver.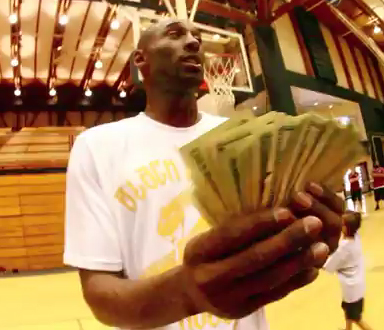 Pictured to the right is Los Angeles Lakers guard Kobe Bryant holding $1,000 in cash.
No, that's not the signing bonus money his father, Joe "Jellybean" Bryant, earned when he was
named head coach
of the WNBA's Los Angeles Sparks yesterday. It's cold, hard cash Kobe took from Bow Wow, the pint-sized rapper, after winning a bet over a game of one-on-one.
It's not totally clear what possessed Bow Wow, who barely reaches Bryant's waist, to bet the five-time NBA champion that he could triumph in a game of one-on-one.
Actually, it is totally clear. This is quite obviously promotion for his new album, entitled, "I Have No Idea What It Is Called, I Didn't Even Know Bow Wow Was Still Rapping." It's set to be released soon. I'm pretty sure.
Anyway, the picture comes from
this YouTube video
, which includes some vulgar language. The video shows Bow Wow arriving at Bryant's basketball camp, issuing the challenge, and then getting annihilated in multiple games of one-on-one while Bryant trashtalks like crazy.
Bow Wow eventually pays up to Bryant, who generously disperses the cash to the counselors working at his camp. Cool -- albeit totally scripted and predictable -- gesture.
Bryant's basketball camp has been a hotbed of activity lately. He recently threw down
a 360 degree dunk
and
beat a bunch of kids in knockout
. Good times.
Hat tip: Hoopmixtape.com.