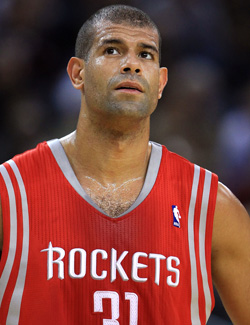 Posted by Matt Moore
Shane Battier
made the biggest shot in Memphis
Grizzlies
history. That may not sound like much to you, but every serious sports franchise has to start somewhere.
The Grizzlies started, really started, with Battier's game-winning 3-pointer at the end of Game 1 in San Antonio vs. the
Spurs
. It was his out-of-nowhere three that led to the first playoff win in Grizzlies franchise history, and kick-started the process of the first playoff series win in Memphis history. Not bad for a guy not known for his offense.
Battier's a free agent, whenever this nasty lockout business is through. And the question will naturally arise if he'll be rejoining Memphis to make good on all the success of last year.
Don't count on it.
In a wide-ranging talk with the
Houston Chronicle
, Battier discussed his situation. He talked about how disappointed he was with Houston for trading him, how that team came within
Yao Ming
's injury of having a real shot, and about how the Grizzlies are set up for the future. But he also made it clear to the
Chronicle
that he expects to play for a contender next season. From the
Chron:
Battier expects to draw interest from contenders, which is one of the reasons the Rockets elected to trade him. Don't be surprised if the next time the Michigan native takes the court he is spotting up outside the 3-point line for the Chicago Bulls or taking charges for the Miami Heat.
via
Solomon: Midseason trade still irks Ex-Rocket Battier | Jerome Solomon on Sports | Chron.com - Houston Chronicle
.
Now, those are the author's suggestions filling in, not words from Battier. But he made it clear that he'll be chasing a championship in the twilight of his career. Memphis will be one of the better overall teams in the league, still relatively young and with loads of potential to make good on the promise set forth in 2011.
But they aren't real contenders. Whether it's because of their market, sub-star stars, their limited roster thanks to money devoted to the players who got them to this point, or just plain ol' history, you'll be hard-pressed to find anyone, inside or outside Memphis, who thinks they are ready to chase a title.
Playoff run?
Sure.
Meaningful basketball?
Absolutely. But there's still some time before Memphis is "there."
And as long as that's the case, Shane Battier won't be.
Chicago's not a bad thought, though he doesn't bring enough offense to really help them. New York, much the same deal. Boston's a great fit, with the veteran atmosphere, its need for depth and his defensive presence. The
Lakers
would be sickening for Battier's fans to watch, but it makes a bit of sense if they did some restructuring. San Antonio's another great fit -- after all, he likes Texas and plays defense. Miami's a hard one to envision, but he could definitely be used to teach the team a thing or two about chemistry and to be the defender on the wing they need.
Wherever Battier goes, he'll bring with him success and an outspoken attitude that rarely vibes with the traditional NBA player mind.