Posted by Matt Moore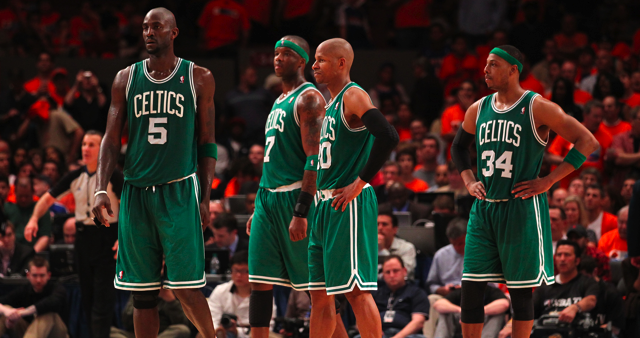 Talk of losing an entire season is a bit ridiculous to us. There's just way too much at stake. Money, momentum, fan support, money, loyalty, money -- it's just hard to imagine losing any games much less a whole season.
But it's a possibility. And with all this hardline talk going on, it seems like neither the players nor the owners are wanting to budge. There's incentive for teams to get a deal done and not
just
for the money, but because a year without basketball and more importantly, basketball operations, could greatly affect each and every NBA franchise. We continue with the Atlantic Division.
Boston Celtics
The Celtics have already started keeping an eye on the future past this core. Their trade of
Kendrick Perkins
for
Jeff Green
and the
Clippers
' draft pick were both aimed at the future. In 2012-2013, the Celtics have less than $30 million comitted. But their best shot at a title is now. Losing 2011-2012 ends the Big 3 era in Boston.
Kevin Garnett
and
Ray Allen
's contracts would expire just as their ability to anchor a championship team also goes the way of the dodo. Losing next season means they wind up with a single championship for all that money invested, all that excitement created.
On top of that, no city needs the current structure to hold as much as Boston. The ability to outspend the small markets under a flex-cap, using its big market status combined with its superiority as a historical powerhouse are both tied to the current luxury-tax system. Savvy spending, reasonable contracts, creative maneuvers? Does any of that sound like the team whose current core is the product of Kevin McHale pitching his old team a favor?
New Jersey Nets
Mikhail Prokhorov did not get into this business to lose an entire season, the last he has
Deron Williams
under contract before an extension he hopes to sign him to, and then begin to build a contender under a system which negates every advantage moving his team to Brooklyn provides. But that's the reality that faces the Russian mogul.
Deron Williams is the big key for the Nets. They sent a fortune in the trade for Williams, with the understanding they would convince him of their grand vision and build around him on his next contract. It was a gamble. But they need the 2011-2012 season to convince Williams that the plan works, that the vision is in place, that they can succeed as the team Williams wants to commit to. Without the 11-12 season, Williams will end up entering free agency with his only time as a Net filled with failure. He may wind up with more wins with his team in Turkey than he won with New Jersey.
From there, Prokhorov would actually be better suited to a system that allows for overspending. If small market teams succeed under the new CBA, his advantage is leveraged. And in such a scenario, New York's power would be amplified within the market. If you're getting paid the same amount regardless, going to the team with the most cache is the best idea.
New York Knicks
Speaking of the Knicks, they have quite a bit to lose in this scenario. A harsher cap drives up the likelihood they won't be able to build effectively around
Carmelo Anthony
and
Amar'e Stoudemire
, if at all. They're already struggling to fill in the gaps (as Donnie Walsh put it in his conference call after stepping down), with a lower spending ceiling that job only gets more difficult. Dolan has failed to succeed when he's broken the bank open. What happens when he can't spend his way out of a problem?
Bigger than that, however, are the risks of the actua lockout. Amar'e Stoudemire is an injury risk. Despite the fact that he's had no problems since microfracture surgery five years ago, scouts and execs are still hesitant about him. Stoudemire is talking about heading to Israel to play during the lockout. Any uninsured play could wind up wiping out time for Stoudemire which devastates the Knicks' prospects for contention. They need to have the stars available so build around, and another year to see what direction they need to go to build a complete team. Losing the season is a disaster.
Philadelphia 76ers
Hey, look! They could spend a whole year thinking more about whether to trade
Andre Iguodala
! They haven't really done enough of that so far.
The lockout could actually help the Sixers on two fronts. First, their attendance was terrible again last season despite making the playoffs. They need the kind of financial overhaul the lockout aims to create. Second, losing the 2011-2012 season means they lose out on a year where they are on the books to pay
Elton Brand
, Andre Iguodala, and
Andres Nocioni
(remember him?) over $37 million next season. They can probably do without that with a fanbase that still hasn't bought in.
Elton Brand has an early termination option for 2012-2013, but he is unlikely to exercise it. Instead, the Sixers will be hoping for the amnesty clause to allow them out from under that final year of Brand's contract.
If any team could use all of the ramifications of the lockout, it's the Sixers, big market or not.
Toronto Raptors
The Raptors won't be winning the title any time soon. Their huge contracts won't be moving off the books any time soon. Their fanbase is still angry over giving
Andrea Bargnani
his extension and the damage done by
Chris Bosh
's departure.
So pretty much the Raptors are fine with however the lockout works out. Lose the season, they get
Jose Calderon
into a contract year, and have more time to come up with inventive ways to ditch Andrea Bargnani, plus
Jonas Valanciunas
is available to come over from Europe. A new salary cap may mitigate the uphill climb they face with their market and location.
They're pretty much fine with however this shakes out.