Houston Rockets center Yao Ming will retire from the NBA. Posted by Ben Golliver.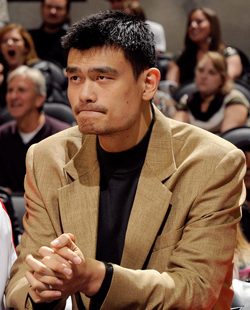 The news that no one wanted to hear is here: Houston Rockets center Yao Ming has decided to call it a career in the NBA.
Yahoo! Sports reports
: "Rockets' Yao Ming has decided to retire from the NBA. He informed the league office within past 48 hours."
The decision comes after years of dealing with nagging injuries.
Back in December
, Yao suffered a stress fracture of his ankle that required season-ending surgery. It was assumed at the time that the injury could be career-threatening, as the injury occurred just five games into the 2010-2011 season after Yao had missed the entire 2009-2010 season following foot surgery.
In March, Yao
told reporters in Houston
that he would attempt a comeback, but was cautious in his outlook.
Yao, 30, was the No. 1 overall pick in the 2002 NBA Draft. Due to his overwhelming popularity, he was voted to the NBA All-Star team in each of his eight seasons as a pro.
Listed at 7-foot-6 and 310 pounds, Yao was unmatched as a physical specimen, enjoying more success than any other player at his height or greater in NBA history. He is credited with being a key figure in spreading the global popularity of basketball, especially in his native China.
He leaves the game with career averages of 19.0 points, 9.2 rebounds and 1.9 blocks per game in 486 appearances.
For more on Yao's legacy, CBSSports.com's Ken Berger
has you covered
.