Television networks are estimated to lose $1 billion in ad sales if the entire NBA season is lost. Posted by Ben Golliver.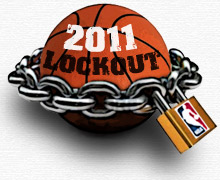 Everybody loses if there is an NBA work stoppage. The players don't get to follow their dreams, the fans don't get to enjoy the diversion and the owners don't get to experience the thrill of chasing a championship.
But the television networks, apparently,
really
lose.
AdWeek.com reports
that the NBA's television partners stand to lose more than $1 billion in advertising revenue should the 2011-2012 NBA season be cancelled.
ESPN/ABC Sports and TNT stand to lose as much as $1.25 billion in ad sales revenue if the labor dispute negates the entire 2011-12 NBA campaign. Indeed, the NBA audience has become so valuable that the postseason inventory alone accounts for nearly a fifth of the full-season take.

According to Kantar Media, ESPN/ABC and TNT took in $417.7 million in total ad sales revenue over the course of the 2010 NBA playoffs and finals. The going rate for a 30-second spot in the Celtics-Lakers series: $402,000 a pop.
For comparison's sake,
numbers released by Forbes.com
on Wednesday indicated that the NBA has lost nearly $2 billion over the last six seasons combined. Clearly, the stakes on all sides are very high.
One takeaway from this report: The conflict of interest for the NBA's television partner networks reporting on the progress of the league's labor negotiations is massive and probably hasn't gotten enough play. If you're wondering why there is so much doomsday talk concerning the stalled labor negotiations, realize that the voices predicting doom and gloom may very well be speaking of -- or at least influenced by -- their own financial stake in the matter.
With a billion dollars on the line, any amount of progress would feel insufficient until a deal is finalized, wouldn't it?