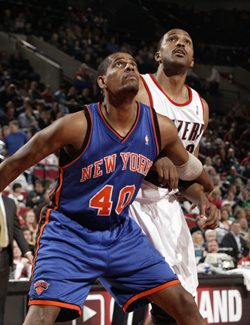 Posted by Matt Moore
The
Knicks
need centers. So, so badly. The original idea wasn't bad. Ronnie Turiaf, acquired in the
David Lee
sign-and-trade, could have worked out. And even if he didn't, they had
Timofey Mozgov
. In a coin-flip at least one of them would work as a legitimate opion at center. But Turiaf is best suited as a reserve, and Mozgov got traded as the "barn" in the farm James Dolan sent for Melo. So they need centers. And according to the
New York Daily News
, their target is heavy on the familiar side.
According to a team source, the Knicks intend to make a run at reacquiring Thomas this summer, or whenever the expected NBA lockout ends. The veteran power forward is a free agent who spent last season with the Chicago Bulls and has made it clear that he wants to play at least one more season.

Thomas will likely decide between the Knicks and Bulls, although he remains hopeful that his hometown Dallas Mavericks will reach out to him as well. Thomas attended all three NBA Finals games in Dallas.
via
New York Knicks plan to make effort at reacquiring veteran
Kurt Thomas
, the NBAs oldest player.
Thomas was a productive member of the Bulls last season, and even started several games with
Joakim Noah
out. As an option for the Knicks, he works on several levels. A veteran defensive presence, he has familiarity with Mike D'Antoni after two years with him from '05 to '07, and he'll come on the cheap. The downside, of course, is that he's going to be 39 next season.
Thirty. Nine.
So yeah, he's only going to be a stop-gap and there's no way of knowing when his final bit of ability is going to fade. But he's still a viable center option. With the Bulls able to groom
Omer Asik
into a larger role, and the Mavericks full-up on bigs, New York might be the best fit. He won't fix their defensive problems, but he won't hurt them, either.