Dallas Mavericks guard Rudy Fernandez has reportedly received a large multi-year contract offer from Real Madrid. Posted by Ben Golliver.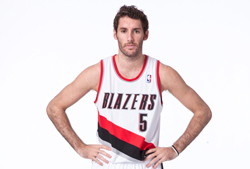 Rumors that Spanish star guard Rudy Fernandez would return to Spain began almost as soon as he touched down in Portland to begin his NBA career.
On Sunday,
Sportando.net
reports -- via
Mundo Deportiva
-- that these rumors have reached a fever pitch, with Real Madrid prepared to make a giant contract offer to Fernandez with the goal of securing his long-term rights.
According to Spanish media, Real Madrid made a crazy offer for Rudy Fernandez, to convince the Spaniard to return in Europe after his years in the NBA.

Real offered to Rudy a six-year deal and €3M per season. Moreover, the club from the capital will give to Fernandez the chance to return to Dallas Mavericks when the lockout ends but with the promise that he will be back to Madrid as soon as his contract with the NBA champs expires.
The offer equates to $4.35 million per year at current exchange rates. In other words, the deal would be worth $26.1 million, a hefty sum for a player that has been subject to the NBA's rookie scale so far during his career and was essentially buried on Portland's bench the last two seasons. Fernandez is set to make $2.1 million in the 2011-2012 season and would be line for a $3.2 million qualifying offer next summer with the opportunity to enter restricted free agency if no extension with Dallas was agreed to.
Almost since the moment fellow Spaniard
Sergio Rodriguez
was traded to the Sacramento
Kings
-- hastening his departure from the NBA and leaving Fernandez by himself in Portland -- a return to Spain has seemed inevitable. Fernandez spent last summer threatening not to show up for training camp and was fined because his agent publicly requested a release from his contract.
This offer -- as described -- is Fernandez's dream scenario. He gets to return to Spain, where he is a hero, to play immediately, can fulfill his duties to the Mavericks if necessary and then receive the long-term pay day which he thought he would get by coming to America. At 26 years old, the clock is ticking for Fernandez, and this deal would not only set him for life, it would also beat his market value in the NBA if he stuck around for free agency.
In Dallas, Fernandez has a legit chance to win an NBA title next season and beyond. In Madrid, he would have all the money and the fame he can handle. Good choices to have, but they will eventually force a difficult decision.