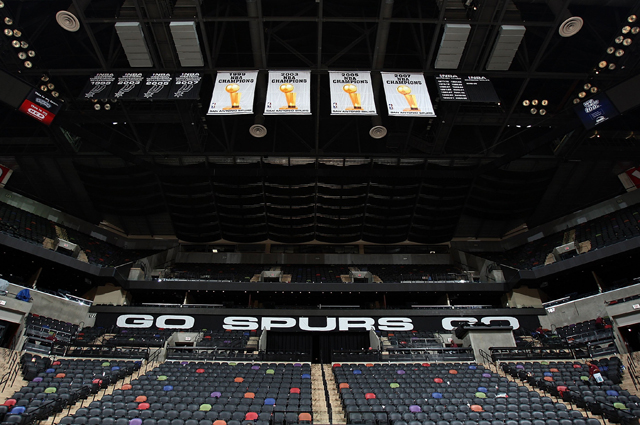 Posted by Matt Moore
In a turn of events that should surprise absolutely no one, the owners got what they wanted. They've locked the players out and are now digging in for the long wait until the union cracks and they can get what they want: more money. I'm not going to go off the deep end on some proletariat hop, but either side in this should stay away from any sort of moral plea in the press.
But nonetheless, here we are, with what is rapidly becoming an ideological dispute instead of a business negotiation. And the damage as this lockout extends will go way beyond just the gross number of luxury vehicles owned. Here's a look at the lockout and the damage done:
The League:
Well, so much for all that momentum. Riding high off of the best season in years, the league now faces a monumental setback. Baseball took a hit. The NBA took a hit, last time.
David Stern is nearing the end of his tenure. Is this going to be the last big thing he's known for? Is this the note he's going out on, being the carriage driver that allowed the ownership to drive the league off the cliff? Stern has a legacy to watch over, and while his constant and long-time devotion to the owners, taking very much an "I work for the owners, I'm not bigger than them" attitude, he is responsible as a caretaker of this sport. It's his job to watch out for its legacy, for the "good of the game." And if this lockout winds up as a complete disaster, the sports version of "Judgment Day" from the "Terminator" series, that's going to go on his permanent record. The league faces a responsibility to make sure that the backbone they stick up for so much, the owners, doesn't destroy the whole body.
Owners:
Well, for starters, their public perception is going to plummet. A tip? People think billionaires arguing with millionaires are stupid. And the owners' cute little "We're going to take a hard line" thing isn't going to go over great, either. Will it affect their daily life? No. They can just stay inside the mansions while the rest of the world hates them a bit more every day. But it does get tiresome having people contantly ask you when you're going to end the lockout. Public perception is clearly not something the owners care about, as you can tell from their actions. But it gets tiresome being the bad guys, and they're going to be so for a while.
There are financial ramifications here. Once you start losing out on the season, the owners aren't just losing ticket sales. It's sponsorships, and community events, and merchandise, and everything else. That's actual lost revenue, just potential revenue. For men who have built their lives around growing the black ink, the red marks are going to be distressing.
This concludes how this lockout will damage the owners. Don't cry for them, Argentina.
Players:
They'll deal with the scrutiny a lot more. Yes, educated fans will understand that the owners have been ridiculous in their negotiation approach and that the players didn't strike. Sadly, far too many people will simply question why they're not playing. And the result is a hit to something that does count, their public image. Getting product and event endorsements, invitations to elite functions, media opportunities to highlight their public profiles, all of that depends on the public image. And in a lockout, that will be harmed not just from negative reaction to the fact they're not playing, but from the fact they won't be seen.
The biggest stars will maintain. But the effect will be there. How about the actual money? Most NBA players haven't divested their income. They don't have multiple outlets of revenue. Many of them have probably saved very little. So when November rolls around and the checks don't come, that lifestyle adjustment will be real. The minimum players will obviously feel it first and most. But even some mid-level veterans live their lives according to their means. Think of it as if you made middle-class money in this country, and then all of a sudden you were put on indefinite furlough. Could you live on less if you'd planned well? Sure. But you've still built your life around the level of income you're making now. That adjustment can be difficult. Well, maybe not difficult, but inconvenient.
Charities:
There will still be charity events. But the players don't have the disposable income to splurge as they usually do. The owners are in "baton the hatches" mode. Which means that a ton of money and resources that normally go to charity will likely be impacted. Even if the wealthiest players still devote their funds, things will be scaled back a bit. Media attention on these events will be less, knowing that the players won't be able to talk about the lockout as both sides duck the issue in the press. And there will be cut backs. Teams will be tightening their belts to save their owners money, not to save jobs in most instances, but to save the owners dough that they're losing in a lockout they created. Non-profits have already taken serious hits throughout the recession, and now those that have benefited so much from team and player involvement will have cuts.
Employees:
Some teams have been wise enough to set aside funds to continue to pay their staff, at least for the most part, throughout the summer and into however how much of the season is impacted by the lockout. Others, not so fortunate. Multiple team employees have told me that their management groups are using this as an opportunity to cut the chaff from their organizations, laying off people that they feel they can do without. While some trimming may be necessary, that's still job loss. These are people who do not make hundreds of thousands of dollars, who just happen to be employed by an NBA team.
You have the impact when games are missed. Concession workers, arena staffs, security crews, etc. Most of these are part-time positions, so primary sources of income won't be affected, but who can afford to lose a gig like that if you're working multiple jobs? What about the extra crewmen hired by television production, both locally and nationally? What about writers, bloggers, editors, developers in the media? Okay, no one cares about those, but still.
Again, some teams have planned for this. Maybe the damage will be minimal. But there will be damage, and the longer this goes, the worse it's going to get.
The reality is, we won't know the damage this lockout will cause until it's over.