Los Angeles Lakers guard Kobe Bryant reportedly underwent platelet rich plasma (PRP) therapy in his ailing knee. Posted by Ben Golliver.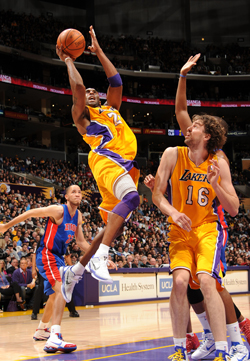 Over the last six months or so, we've been tracking any and all news related to the health and wellbeing of Los Angeles Lakers guard Kobe Bryant.
Back in May,
Lakers trainer Gary Vitti said that Bryant had an irreversible cartilage problem in his surgically repaired right knee.
In January
, Bryant said his knee was "almost bone-on-bone."
Interestingly, Vitti noted in May that the Lakers "know all the procedures all around the world that are available to him, and the appropriate decisions will be made."
On Thursday,
the Los Angeles Times reports
that Bryant underwent one of those procedures in Germany recently.
Lakers guard Kobe Bryant has taken an unusual step to try to strengthen his ailing right knee, undergoing an innovative procedure in Germany about a month ago, according to four people familiar with the situation who were not authorized to speak publicly.

The treatment is called platelet-rich plasma therapy. PRP procedures are less invasive than many surgeries involving the knee and are viewed as either an emerging solution to knee problems or a financial gamble on unproven science.
Portland
Trail Blazers
guard
Brandon Roy
has undergone PRP therapy in his hamstring as well as both knees. Roy has
questioned the effectiveness of the procedure
and the medical community is not totally sold that PRP therapy by itself is effective.
PRP therapy injects a patient's blood into the area of concern to try to stimulate the body's natural healing abilities. It doesn't require an extended time away from physical activity and is quick and easy to undergo.
As of right now, players in the position that Bryant and Roy are in seem to think, "Why not? Worth a shot. I've got nothing to lose."