Posted by Royce Young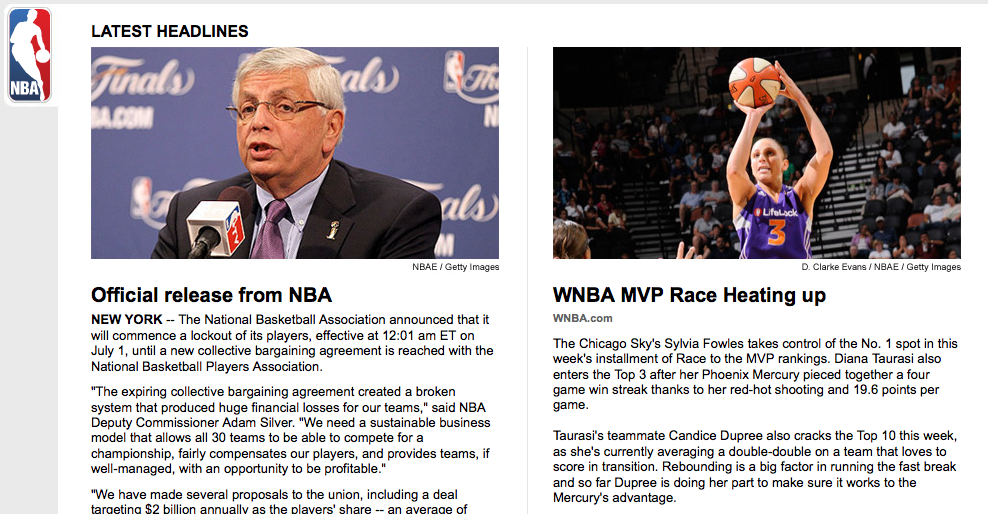 Welcome to the new NBA.com, where the second lead story is, "WNBA MVP race heating up." Yeah, this whole lockout thing totally sucks.
What happened? Where'd StatsCube go? Where's all the player profiles? Where are the stories, columns and pictures?
All gone because of the lockout. At exactly 12:01 a.m., the time the lockout officially began, NBA.com transformed to a cut-down version with no pictures, videos or text about players.
Kevin Arnovitz of TrueHoop explains why:
Does it really matter if there's an extension of the CBA in July or a lockout? After all, there aren't any games nor do players get paid during this summer.

But for the guys who are in charge of those team websites and NBA.com, the pending deadline is a huge deal.

That's because the moment the clock strikes midnight on the current CBA, all those images and videos of NBA players have to disappear off NBA-owned digital properties. Depending on how you interpret "fair use," the prohibition could include the mere mention of a player's name on an NBA-owned site, though different teams have different interpretations of this particular stipulation.

Over the past few weeks, NBA website administrators and support staff have endured two-hour conference calls and countless planning sessions to figure out how to eliminate all these photos, highlights, articles and promotional features from the sites.
At last check, a lot of team sites still were normal, but we'll see what happens there in the coming days. But there is literally no NBA-related content on NBA.com that includes anything about a player. All content has been wiped clean for now and the only content is either about the lockout or the WNBA.
If you needed a visual, obvious sign of the lockout, just check NBA.com. It's on, people.