The NBA officially announced that it would be locking out its players on Thursday afternoon. Posted by Ben Golliver.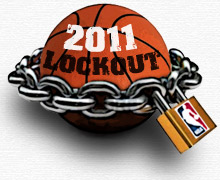 On Thursday afternoon, CBSSports.com's Ken Berger reported that representatives of the NBA owners had informed representatives of the National Basketball Players Association that the league would proceed with a lockout after negotiations for a new Collective Bargaining Agreement in New York proved unsuccessful.
Within hours, the NBA released an official statement on its website, confirming that a lockout will commence early Friday morning.
Here's the
full text of the statement via NBA.com
.
The National Basketball Association announced that it will commence a lockout of its players, effective at 12:01 am ET on July 1, until a new collective bargaining agreement is reached with the National Basketball Players Association.

"The expiring collective bargaining agreement created a broken system that produced huge financial losses for our teams," said NBA Deputy Commissioner Adam Silver. "We need a sustainable business model that allows all 30 teams to be able to compete for a championship, fairly compensates our players, and provides teams, if well-managed, with an opportunity to be profitable."

"We have made several proposals to the union, including a deal targeting $2 billion annually as the players' share -- an average of approximately $5 million per player that could increase along with league revenue growth," said Silver. "Elements of our proposal would also better align players' pay with performance."

"We will continue to make every effort to reach a new agreement that is fair and in the best interests of our teams, our players, our fans, and our game."

During the lockout, players will not receive their salaries; teams will not negotiate, sign or trade player contracts; players will not be able to use team facilities for any purpose; and teams will not conduct or facilitate any summer camps, exhibitions, practices, workouts, coaching sessions, or team meetings.
There's nothing groundbreaking in the five paragraph statement. The same themes that have been hammered on for months now are repeated: a broken financial system, aligning pay with performance and creating a better competitive environment for small-market teams.