Posted by Matt Moore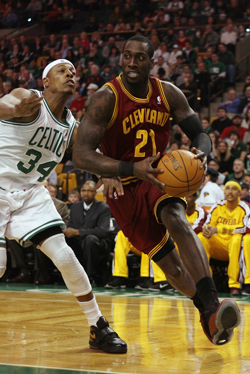 Update 2:14 p.m.:
The
Kings
and Cavs have both announced the deal
Multiple reports surfaced Thursday of a deal being finalized by the Cleveland
Cavaliers
to send
J.J. Hickson
to Sacramento for forward
Omri Casspi
and a conditional first-round pick.
Both ESPN
and
Yahoo! are reporting the dea
l, with ESPN slightly quicker with the news. The
Sacramento Bee
also
confirms the setup of the deal
involving the pick, which will allow the Kings to keep the 2012 pick unless they make the playoffs.
Winner: Cavs. The Cavaliers traded an asset who had never jelled with Byron Scott and hadn't lived up to expectations for a versatile forward on the cheap and a conditional first-rounder. That's a nice haul for Hickson. The Cavs drafted
Tristan Thompson
who can't play the five but will work well at the four. He'll play next to
Anderson Varejao
and bring the athleticism Hickson was on board for. Getting the first-rounder is gravy, even if it's unlikely to develop unless the Kings make huge strides.
Loser: We'll technically say the Kings, only for surrendering the conditional first-rounder. Casspi was caught in a logjam after the acquisition of
John Salmons
, which just makes the Salmons trade look worse (they could have gotten
Jimmer Fredette
all the same at their original seven spot). It's not a terrible trade, as they can use Hickson's size and athleticism off the bench, but he and
DeMarcus Cousins
along with Donte Green makes for a pretty tricky bulge at the four spot. Not a big loss here, though, considering. Pretty good deal for both clubs.