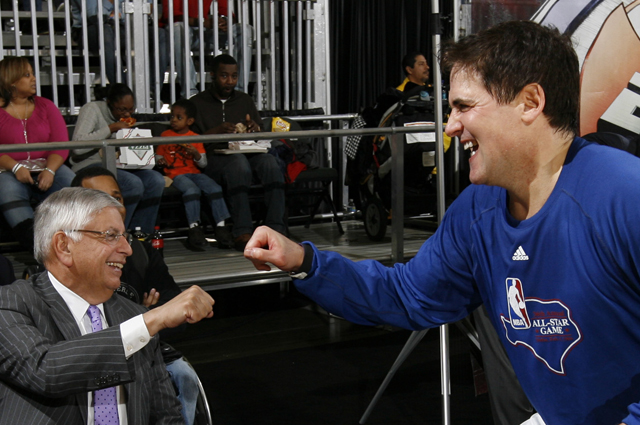 Posted by Matt Moore
It's just about over now. The respiration machines are slowing, the room has gone still, and everyone's trying to make peace with it. NBA momentum is almost dead. And the players and ownership are still haggling with one another over its possessions.
It's grotesque how everything has happened that has led to this point. From the owners' scorched earth policy to avoiding any move toward real compromise or negotiation, their refusal to offer counterproposals over a period that lasted longer than six months, the players' desperate moves to maintain their footing, and most of all to the fact that both sides only really started negotiating within the last month. They knew this was coming. They knew what was at stake. And their pride kept them out of the board room. This is not how business should be conducted, not how men should decide the fate of the league at its most important time.
There should have been dialogue the whole way through. It should have started last year and continued as often as possible. Both sides should have offered alternatives outside the box (the players have provided some ideas, but they were mostly regarding tertiary issues and didn't address the primary concerns). Both sides should have recognized that total victory is not obtained through negotiation. But maybe the owners knew that. Perhaps they understood the only way they were going to get their way was to force a siege and then choke off the supply lines. Maybe this was the plan from the start. If so, they're even dumber than the contracts they gave that put themselves into this position would show. But either way, there should have been efforts made to avoid this at all costs. This should have been the absolute last option, not the starting point to try and avoid. That would have been reasonable, that would have been intelligent, that would have been good business.
Instead, we've got this, the height of success for the league since Michael Jordan left being set aflame because of principled stances and juvenile dramatic positioning.
We've got a lockout.
The NBA and ownership meets Thursday for the final time at noon eastern (high noon, as the drama continues) to try and resolve this. Or at least to look as if they're trying to resolve this. If you have a key negotiation that's being done to avoid shutting down your business entirely, do you wait until the absolute last minute? Is that how things are done? Absolutely not, but that's what's going on here. Instead we have one more chance for each side to try and position themselves as the compromisers, as the ones trying to get a deal, to try and create a crack in the other side. It won't work, of course. What would work is a group of smart people in a room trying to find solutions to the problems both sides face. Instead, we get two sides providing lip service by showing up for a meeting neither of them expect to actually do anything.
If ownership is largely responsible for the injuries sustained to NBA momentum with its refusal to offer counterproposals, ridiculously hard line, constant scare tactics, and unrealistic expectations to completely revolutionize the sport in one renegotiation versus aiming to make changes over several, the players pulled the plug by refusing to offer a counterproposal to the owners' last effort. Was the owners' last design a series of false admissions of compromise wrapped in a deceptively hard stance? Absolutely. But there was no reason to cut off the talks, to stop the process of offering alternatives. That's negotiation. Instead, as the players elected for at All-Star Weekend in 2010, they pulled off dramatics that seem more like the work of dress-code-protesting teenagers than an organized collection of professionals. T-shirts that read "STAND," the brainchild of the ultimate NBA drama queen,
Kevin Garnett
along with
Paul Pierce
(you thought I was going to say LeBron, didn't you?). Walkouts of practice at All-Star Weekend. The players are one-step shy of stomping and screaming "It's not fair!"
Meanwhile, the owners are harboring delusions of grandeur of their own, wanting to "win" a negotiation outright. The CBA is an agreement. It takes two sides to tango. And while their money is what creates the backbone of the league, and it is their teams that form its foundation, they cannot exist without the players, without these players, without the best players. Yet the owners think it better to create nuclear winter and then wait for their opponent to buckle.
You know why neither the United States nor the Soviet Union elected to use nuclear weaponry in the cold war? Because killing all of the citizens you're fighting for in an effort to protect them doesn't make any sense. Putting the league into a lockout, killing all the momentum and shutting off revenue streams in order to make more money isn't just cutting your nose to spite your face, it's drowning yourself to make sure you don't run out of air. It's madness.
The league is at its best point since Jordan left. Ratings are up, league interest is sky-high. The internet has allowed fans to follow their teams in a way they have never been able to. All the games are broadcast on League Pass. Trades provide constant speculation and fans huddled around screens waiting to see what happens next (and will become remarkably difficult in a hard cap, hope the owners are remembering). The draft got crazy ratings, for crying out loud, and it was a horribly weak draft! China is a still-emerging market, the game has never been more globally recognized, revenues have come back up, and yet here we are. Wasting all this is borderline criminal. Depriving the fans, who, if we're being totally honest, are the ones who
actually
drive revenue, of this sport wastes everything that has been built over the past five years. We're talking about incredible amounts of money, in the billions. The money is there. We're just going to shut everything down over how we're going to split it up? Really? This is the big strategic design?
Getting hurt by your long-term contracts to wasteful players? Don't offer them. Don't think you should lose money in the biggest economic downturn since the Great Depression? Grow up, everyone's tightening his belts, even the owners. Want to guarantee profitability? Open up conversations about revenue sharing and we'll believe you. Want to protect future players' earning potential? Give them a league to play in.
There are alternatives being looked at. Ken Berger's
got a plan
. Other
smart people have a plan
. The players and owners? They've just got the body of NBA momentum, dying in front of them while they fight over the silverware.
The NBA lockout is upon us. And every inch of it should be something both sides should recognize is wholly and entirely stupid.