Posted by EOB Staff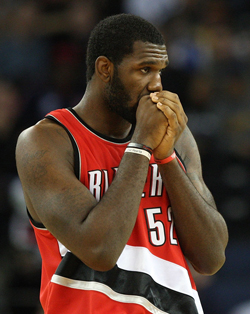 Update (8:37 p.m.)
: On Wednesday afternoon, the Portland
Trail Blazers
confirmed that they have tendered a qualifying offer to
Greg Oden
.
"We've stood behind Greg Oden every day since he became a Trail Blazer and that continues with today's announcement," said Trail Blazers President Larry Miller . "Despite the setbacks he's experienced, he continues to be resilient in working tirelessly on his rehabilitation. We're all very encouraged with not only his progress, but with his commitment and determination to return to the basketball court."
From Yahoo! Sports:
Portland Trail Blazers officials have told Greg Oden's representatives they will tender the center an $8.8 million qualifying offer to make him a restricted free agent, league sources told Yahoo! Sports. The Blazers have until midnight ET Thursday to give the qualifying offer.
via
Blazers to make qualifying offer to Oden - NBA - Yahoo! Sports
.
The move isn't surprising, the Blazers have been rumored to be making this decision for months. It does send a signal, however. In doing so, the Blazers are asserting that Oden does not have enough long term injury questions to justify abandoning him to the market.
Oden has had microfracture surgery... on each of his knees. Think about that. The most severe knee procedure that players have performed on them, and he's had it on both knees.
Amar'e Stoudemire
is considered an injury risk because of one microfracture surgery five years ago.
Chris Paul
is questioned without having had said surgery. And Oden has had it on both knees
and
broke his patella.
So yeah, buyer beware there.
If Oden does receive an offer from another team, the Blazers will have seven days to match the offer. Usually, a team will frontload a contract to try and force the player's team to not match. But with Oden, they face the quandary of front-loading a contract for a player who is still recovering from injury, versus backloading a contract for a player with injury issues who may not be able to play, no, scratch that, definitely won't be able to play if he has another severe injury.
The Oden Problem is a tough one to figure out.